22 Members Encourage President Trump to Ensure Local Input and Control by Implementing Coordination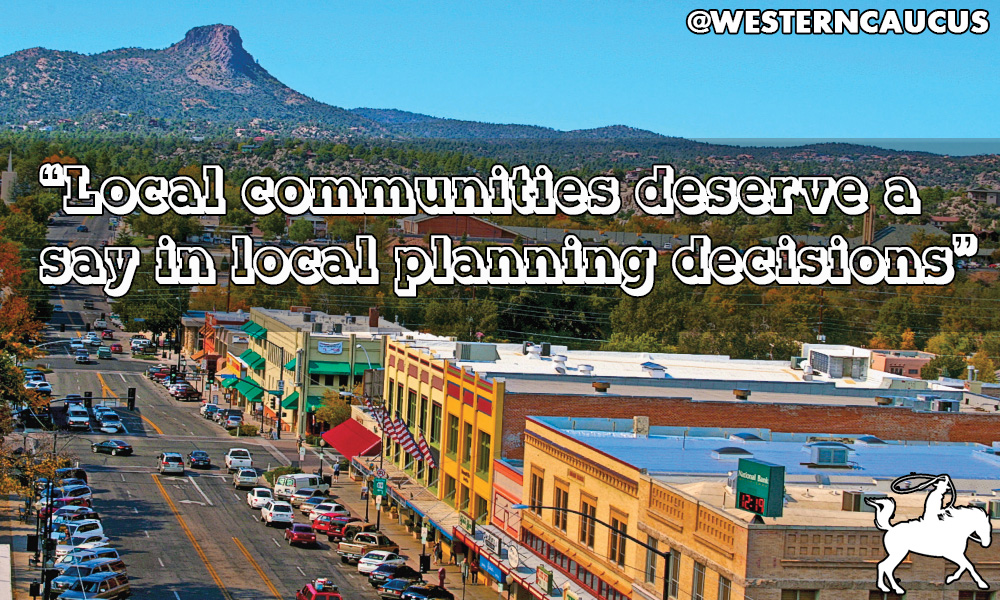 WASHINGTON, D.C. – Today, Congressional Western Caucus Chairman Paul A. Gosar D.D.S. (AZ-04),  Executive Vice-Chairman Scott Tipton (CO-03), Western Caucus members Doug LaMalfa (CA-01), Ken Buck (CO-04), Greg Gianforte (MT-At Large) and Kevin Cramer (ND-At Large), and Executive Director of the American Stewards for Liberty Margaret Byfield released the following statements after 22 Members of Congress signed and sent a letter to President Trump requesting the Administration implement an Executive Order and three policies that will improve coordination between the federal government and local communities:

Congressman LaMalfa stated, "When it comes to managing large swaths of land, one thing is clear, the powers that be Washington DC don't know best. State and local governments have a far better understanding of how to effectively manage the people's lands without limiting public access and hindering economic growth. In rural areas such as Northern California, the use of our land is critical to our way of life. I supported the President's Executive Order to review recent overreaching National Monument designations, now we call on him to do what no Administration has done before – allow the states and their local governments to not be overlooked, but have a strong voice when making important decisions that directly affect their livelihoods."

"Too often, federal agencies ignore the expertise and input of local government officials when implementing policies that impact our land and natural resources. That's why I strongly encourage the President to review and revise the current regulations and statutes applying to federal coordination with state and local governments. When it comes to utilizing and stewarding our nation's lands and resources, I trust local stakeholders and officials more than I trust Washington bureaucrats to know what's best for Colorado, for the West, and for the entire nation," said Congressman Buck.

Congressman Tipton stated, "It is vital that land management decisions are made with robust input from people who know the lands best, not unilaterally by Washington bureaucrats. I am hopeful the administration will consider these proposals to allow for better coordination between local officials and the federal government when it comes to developing the policies that impact the lives of Coloradans and all Westerners."

"That federalism as a principle with binding legal force was run roughshod over by the previous administration does nothing to diminish its efficacy, its desirability as a principle of fair governance, or its status as a Constitutional mandate," said Chairman Gosar. "States and local governments possess important and critical knowledge that should be included in any planning process. Their voices deserve to be heard on important decisions that impact their livelihoods. If the Trump Administration fully implements coordination, valuable local perspectives won't be ignored any longer, as they were, systematically, during the Obama Administration." 

"For too long, we have seen the effects of a top-down, 'Washington-knows-best' approach to our lands and natural resources," stated Congressman Gianforte. "I hope the president will trust and empower western states and our local communities, who are more familiar with their circumstances and needs than Washington bureaucrats."
Congressman Cramer remarked, "This letter and draft documents we sent the Administration are intended to get the federal government to better implement policies to work with state and local governments.  Under a number of previous administrations federal agencies would too often ignore local views and abandon the basic principles of our federal system.  This is all too familiar to North Dakotans as we work to best utilize our water, land, and natural resources."

"Although coordination with States and local governments has been required for over 30 years, no Administration has implemented this directive. We applaud the leadership of the Congressional Western Caucus to call on the Trump Administration to be the first to require federal agencies to coordinate with States and local governments, and in so doing, move the decision making back to the local communities where it belongs," concluded Executive Director of American Stewards of Liberty Margaret Byfield.
 
Background:

Today, 22 Members of Congress signed and sent a letter to President of the United States Donald J. Trump requesting that the administration implement an Executive Order (EO) and three policies and that would improve coordination between federal government and local communities. The EO and accompanying policies aim to give stakeholders a seat at the table and would result in better land and resource planning decisions, reduce disputes, and strengthen the overall planning process.

To read the full signed letter click HERE.

Enclosed with the letter are: the Draft Executive Order, a Draft Presidential Memorandum, a Draft Policy Coordination of Inventory Processes with State and Local Governments, a Draft Policy Coordinating the Planning Process with State and Local Governments, and a Draft Policy Coordinating of Management Activities with States and Local Governments.

The signatories highlight that the way federal land and resources are managed have ramifications for state and local governments, citizens' day-to-day lives, and the economy. Despite these major and lasting impacts, federal agencies have "routinely ignored the land-use plans, programs and policies of local stakeholders when making important land and resource planning decisions." The informational deficit that exists between federal bureaucrats, on-the-ground officials and stakeholders ensures that top-down governance consistently poses significant problems for the local communities affected by said federal policies. Their lack of recourse against the agencies in question can make these problems intractable—when pursuing coordination in the first place would have sidestepped many of the problems that ensued.

The letter further highlights the principles of federalism undergirding the policy suggestions; coordination-based federalism is at once the law of the land, as well as the most efficient and fair way to implement policy in an environment in which federal policy routinely impacts local conditions and governance.

The provisions of the EO in particular are supported by multiple federal laws and agency regulations. However, no administration has implemented coordination to date. Per the letter, the EO and accompanying policies seek to improve decision-making by allowing state and local governments to provide meaningful input to federal agencies and ensure that important decisions are made in conjunction with local stakeholders.
*    *    *
Letter cosigners (22): Representatives Ken Buck, Doug LaMalfa, Paul Gosar, Glenn 'GT' Thompson, Scott Tipton, Brian Babin, Mark Amodei, Kevin Brady, Jaime Herrera Beutler, Alex Mooney, Dan Newhouse, Greg Gianforte, Raúl R. Labrador, Kevin Cramer, Mike Simpson, Steve King, Louie Gohmert, Tom McClintock, Ralph Norman, Doug Lamborn, Steve Pearce and Trent Franks.
 
###