Western Caucus and EPA Administrator Pruitt Meet to Return Accountability to the People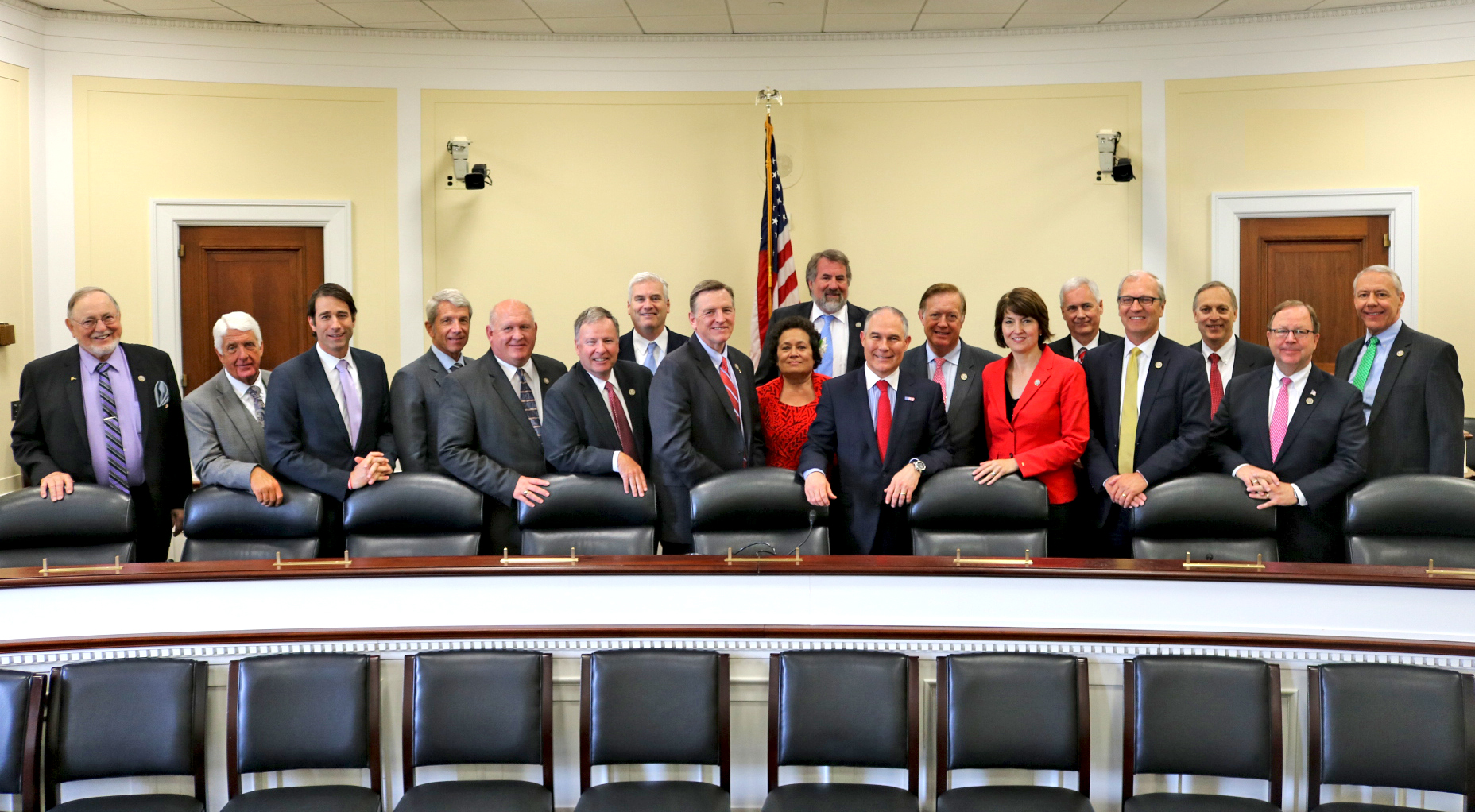 WASHINGTON, D.C. – Today, Environmental Protection Agency (EPA) Administrator Scott Pruitt, Congressional Western Caucus Chairman Paul A. Gosar D.D.S. (AZ-04) and Vice-Chairman for Indian Affairs and Oceans Don Young (AK-At Large) and Western Caucus members Rep. Doug LaMalfa (CA-01) and Rep. Blake Farenthold (TX-27) released the following statements after a roundtable discussion between Western Caucus members and Administrator Pruitt:
"I look forward to working together with the Western Caucus on issues unique to western states and their constituencies. Locally elected officials and the citizens they represent are the best stewards of their own natural resources. They want to protect their environment and grow their economies, and EPA is going to help them do that by improving our partnership with states," said EPA Administrator Scott Pruitt.
"The hallmark of the Obama Administration's EPA was blatant misinformation, bold-faced lies and a hell-bent determination to drive our economy and jobs into the ground in order to curry favor with extremist special-interest groups," said Chairman Gosar. "Prior to leading the EPA, Scott Pruitt led the charge to defeat some of the most onerous and particularly spiteful regulations promulgated by an out-of-control agency with a power trip verging on megalomania. Today's meeting was a welcome breath of fresh air and I look forward to working with Administrator Pruitt on fact-based and commonsense policies that promote an all-of-the-above energy strategy, provide sensible protections, return to the Rule of Law, and foster economic prosperity."
"Alaskans demand an EPA that is a partner of the people, not a relentless adversary," said Congressman Don Young. "After eight long years, we need an Administrator that will take seriously the rule of law, recognize the social and economic impacts of their decisions, and place value on local voices rather than extreme environmentalist. I'm pleased to continue our work with Administrator Pruitt and to begin addressing a number of critical issues facing the Alaskan people."
Congressman LaMalfa stated, "I appreciate Administrator Pruitt taking the time to meet with us to discuss important issues that we must tackle in the upcoming months. I urged him to look into the Duarte case, in which a farmer in my district is being heavily penalized under the Clean Water Act because his furrows are characterized as 'miniature mountain ranges.' I look forward to working with Administrator Pruitt on policy reforms that will peel back unnecessary regulations and allow farmers to simply plow their fields."
Congressman Farenthold said, "I am pleased to know that Administrator Pruitt recognizes the importance of a sound regulatory framework and the dangers that sue and settle agreements can pose to it. I look forward to working with him to end this practice and restore transparency to our government. The Subcommittee on Interior, Energy, and Environment, will lead a hearing tomorrow to further discuss sue and settle agreements."
Background:
Today, the Congressional Western Caucus hosted EPA Administrator Scott Pruitt for the Monthly Member Meeting and Speaker Series.

The Congressional Western Caucus currently has 71 bipartisan members. Click HERE to see the full membership list.

At today's meeting Administrator Pruitt discussed the 22 regulatory actions taken by the agency since he took over that have positively impacted 1.4 million jobs. The Administrator also made clear that he adamant defends the Rule of Law, supports restructuring the agency to get employees closer to people on the ground, and favors a restoration of process at the EPA as "regulations should make things regular."

The group also discussed President Trump's Executive Order on Energy Independence and the EPA's review of the job-killing Clean Power Plan and Waters of the United States (WOTUS) rules put forth by the Obama Administration, amongst other pressing issues.  
(Scott Pruitt Bio Courtesy of the Environmental Protection Agency)
Scott Pruitt was confirmed as the 14th Administrator of the U.S. Environmental Protection Agency on February 17, 2017.
Administrator Pruitt believes that promoting and protecting a strong and healthy environment is among the lifeblood priorities of the government, and the EPA is vital to that mission.
Pruitt is committed to ensuring the EPA gets back to the basics of managing our environment by engaging with state, local and tribal partners to create sensible regulations that enhance – rather than inhibit – economic growth.
Within the first two months of his leadership, Pruitt has spearheaded over two dozen significant regulatory reform actions including the review of the Waters of the United States rule and the Clean Power Plan.
Prior to serving on President Trump's cabinet, Pruitt served as Oklahoma's Attorney General where he became a national leader through a career of advocating to keep power in the hands of hard-working Americans. He has a proven track record of working with others – including industry, farmers, ranchers, landowners and small business owners - who want to do the right thing by the environment.
Pruitt also served eight years in the Oklahoma State Senate in addition to co-owning and managing Oklahoma City's Triple-A minor league baseball affiliate.
Pruitt played baseball for the University of Kentucky, earned his bachelor's degree from Georgetown College and graduated from the University of Tulsa College of Law. He and Marlyn, his wife of 27 years proudly raised their two children in Tulsa.
                                                                                        ###