Western Caucus Congratulates Secretary Rick Perry on Confirmation to Department of Energy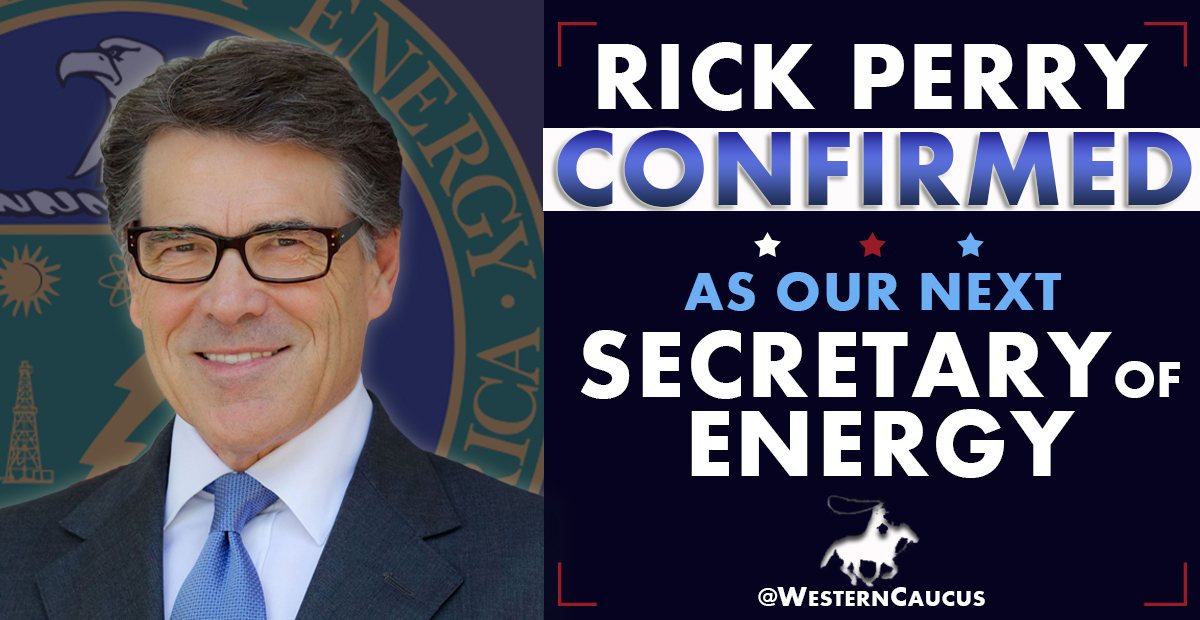 WASHINGTON, D.C. - Congressional Western Caucus Chairman Paul A. Gosar, D.D.S. (AZ-04), Chief Rules Officer Rep. Dan Newhouse (WA-04), Chief Infrastructure and Forestry Officer Rep. Bruce Westerman (AR-04), Chairman Emeritus Rep. Steve Pearce (NM-02) and Western Caucus Members Del. Aumua Amata Coleman Radewagen (AS-At Large), Rep. Bill Flores (TX-17), and Rep. Ralph Abraham (LA-05) issued the following statements after Governor Rick Perry of Texas was confirmed by the U.S. Senate by a bipartisan vote of 62-37 to serve as Secretary of the Department of the Energy:
Chairman Gosar remarked, "It is only fitting that Secretary Rick Perry be confirmed on Texas Independence Day; I know that the Department of Energy will be in capable hands under the direction of Secretary Perry. Not only will our nation continue to enjoy stable, reliable, and affordable energy, but he will also bring his commonsense approach to developing energy sources utilizing an all-of-the-above strategy. Congratulations to the new secretary and may God Bless Texas."
"I congratulate Governor Perry on his confirmation as Secretary of Energy. The Mid-Columbia is home to two of the Department's most significant sites: Hanford is the nation's largest defense nuclear waste cleanup site, and the Pacific Northwest National Laboratory (PNNL) is one of the nation's premier laboratories. Meeting the legal and moral obligation to continue Hanford cleanup is critical for Central Washington and our country. Supporting the research mission of PNNL is vital to continue groundbreaking innovations in the fields of science, energy, environment, and national security. With Secretary Perry at the Department's helm, I look forward to working together to ensure that Hanford and PNNL have the support to accomplish their respective missions," said Congressman Newhouse.
Congressman Westerman remarked, "As the former governor of one of our nation's largest energy producing states, Secretary Rick Perry will bring a unique perspective to the Department of Energy. Secretary Perry is a longtime public servant who understands our nation's energy needs. I look forward to working with him to bring a balanced, commonsense approach to federal energy policy in the years ahead."
"Secretary Rick Perry is a proven leader as former Governor of Texas. He understands and respects the unique role New Mexico plays in the Department of Energy. I look forward to working with Secretary Perry to promote and advance New Mexican DOE facilities, such WIPP, Los Alamos National Lab, and Sandia National Lab," remarked Congressman Pearce.
"I could not be happier to see that the Senate has confirmed Governor Perry to serve as the next Secretary of Energy. With over three decades of political experience, I know Governor Perry will bring a unique approach to the office. In today's political climate the Department of Energy needs a strong leader who will serve in the best interest of the American people, and Governor Perry is more than qualified in that regard," said Congresswoman Radewagen. "I look forward to working with Secretary Perry as he steps into his new leadership role, and have the utmost confidence that he will do an amazing job leading the Department."
Congressman Flores said, "Rick Perry will be a champion for a robust energy strategy to improve America's economic and national security. As a former governor of my state of Texas, he has the proven track record and leadership skills to lead the Department of Energy and maximize our nation's energy potential. I look forward to working closely with him to advance a 21st century energy strategy to lower energy costs, improve economic opportunity, advance geopolitical stability and achieve energy security for hardworking American families."
"Governor Perry understands the importance of domestic energy production to the economies of places like his home state of Texas, my home state of Louisiana, and states across the West. I'm very excited that he will oversee the Department of Energy because he will allow our energy producers to do what they do best: create jobs, grow the economy and supply the power it takes to keep our nation running," Congressman Abraham said.
Background:
Today the U.S. Senate confirmed Governor Perry to be the 14th Secretary of the United States Department of Energy.
An archived website of Perry's nomination hearing that was held on January 19, 2017 hearing can be found by clicking HERE.
(Courtesy of RickPerry.Org)
Rick Perry is a veteran of the United States Air Force, a former farmer, and the former governor of the 12th largest economy in the world. He has devoted his adult life to creating prosperity and opportunity for families. As the 47th and longest-serving governor of the Lone Star State, he championed conservative principles that helped Texas become America's economic engine.
Since 2000, Texas has created almost one-third of all new private sector jobs in the United States. Without the 1.5 million jobs Texas created since the end of 2007, the United States would be net negative more than 400,000 jobs.
###