Western Caucus Members Applaud DOI Sage Grouse Report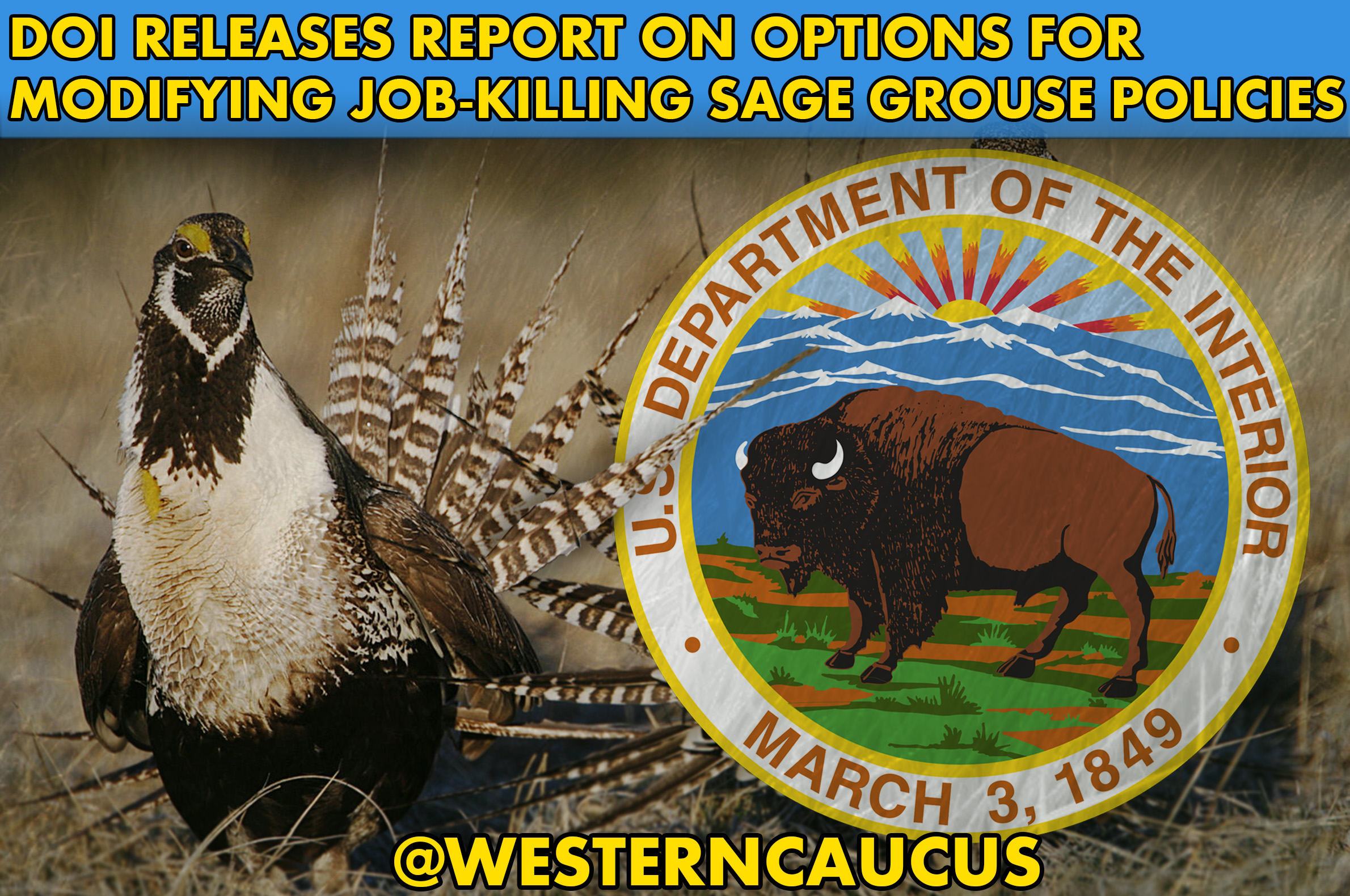 | | |
| --- | --- |
| For Immediate Release | Date:  August 7, 2017 |
| Contact: Tanner Hanson | |
WASHINGTON, D.C. – Today, Congressional Western Caucus Chairman Paul A. Gosar D.D.S. (AZ-04) and Western Caucus member Doug LaMalfa (CA-01) released the following statements after the Department of the Interior (DOI) released a 52-page report from Sage-Grouse Review Team (DOI Team) regarding possible plan and policy modifications to complement state efforts in order to improve Greater Sage-Grouse conservation and economic development on public lands:
"The de facto Sage-Grouse listing and proposed 10 million-acre mineral withdrawal from the Obama Administration is the greatest threat to the livelihoods of Western communities," said Chairman Gosar. "Removing or modifying overly restrictive 'sagebrush focal areas,' increasing livestock grazing, removing 'hard triggers,' allowing for new mineral leasing and working with local stakeholders are all commonsense activities when discussing an issue that impacts 11 western states and 67 million acres of total land. Today's report from the Sage-Grouse Review Team is a step in the right direction. I am hopeful that these recommendations will result in substantive actions that unwind the political and job-killing Sage-Grouse policies implemented by the Obama Administration that have wreaked havoc on the West."
"The restrictions on Sage Grouse habitat under the Obama Administration were both unwarranted and ineffective. The Sage Grouse is neither endangered nor threatened and, in fact, the species is now considered to be quite abundant. In reality, this was an attack on American energy production in the west. I am glad Secretary Zinke and the Department of Interior have taken the time to make the right decision and take a more responsible approach to conservation," Congressman LaMalfa concluded.


Background:

On June 8, 2017 Secretary of the Interior Ryan Zinke signed Secretarial Order (SO) 3353 calling for a 60-day review of Greater Sage-Grouse conservation policies and cooperation with Western States.

Today, the Department of the Interior (DOI) released a 52-page report from Sage-Grouse Review Team (DOI Team) regarding possible plan and policy modifications to complement state efforts in order to improve Greater Sage-Grouse conservation and economic development on public lands. The report was commissioned as a result of SO 3353.

To read the full report click HERE. To read the press release from the Department of the Interior click HERE.

Courtesy of the Department of the Interior:

In September 2015, the Departments of the Interior and Agriculture [under the Obama Administration] finalized the Greater Sage-Grouse (GRSG) plans, which included amendments and revisions to 98 Bureau of Land Management (BLM) and U.S. Forest Service land use plans in 11 Western states.

In October 2015, relying upon the conservation commitments and progress reflected in the 2015 GRSG Plans and other private, State, and Federal conservation efforts, the FWS published its determination that the GRSG did not warrant listing under the ESA.
In signing Secretarial Order 3353, Secretary Zinke established an internal review team to evaluate both Federal Sage Grouse plans and state plans and programs to ensure they are complementary. Together, the DOI Team, and managers and staff from the Bureau of Land Management (BLM), U.S. Fish and Wildlife Service (FWS), and U.S. Geological Survey (USGS), and the Sage-Grouse Task Force (SGTF)—made up of representatives of the Governors of each of the Eleven States—identified issues, options to address those issues, and next steps to implement the Order.
This report recommends continued collaboration with the States, including both through the SGTF and between each Governor's office and the respective Bureau of Land Management (BLM) State Director and USFS Regional Forester, as well as key BLM and USFS national-level Directors. This report also recommends engagement on the issues and options identified in this report with Congressional delegations, counties, local governments, and tribes, as well as with ranchers, industry, conservation groups, and other stakeholders. This additional engagement would be used to refine the options and develop a plan for prioritized implementation of the options in this report.
The review conducted in response to the Order identified many opportunities, summarized in this report, to clarify the BLM's management under the 2015 GRSG Plans. Clarifications, policies, agreements, or training could: (1) address issues related to habitat assessment and monitoring, including the Habitat Assessment Framework, and grazing management; (2) take advantage of flexibility in the 2015 GRSG Plans to support energy, mineral, and other development; (3) increase consistency between the BLM and States on density and disturbance caps and mitigation; and (4) in some cases, allow adjustments to habitat boundaries and address issues with adaptive management.
The review also identified longer term options to consider some issues through a potential plan amendment process. This report recommends further investigation of potential plan amendments, including considering what combination of potential plan amendments would best balance continuing to conserve the GRSG and its habitat and supporting economic development, and whether to consider State-by-State or range-wide amendments. Potential plan amendments could be considered in some States to remove or modify sagebrush focal area (SFA) designations; address adjustments to habitat management boundaries; adjust responses to reaching adaptive management triggers; evaluate the compensatory mitigation standard; and provide additional flexibility in resource development.
The report identifies opportunities to improve coordination on fire, fuels, and invasive species management develop MOUs, increase data sharing, initiate new research, and incorporate new information into plan implementation. The report also includes recommendations on captive breeding, translocations, predator control, and setting population targets.

This report includes short and long term approaches to address issues of concern through policy, clarification, and training (short term), as well as investigating potential targeted plan amendments (long term). Certain options are prioritized for further work to begin immediately, including: identifying options to incorporate updated habitat boundaries into habitat management areas; clarifying mechanisms to modify waivers, exceptions, and modifications in priority habitat management areas (PHMAs); modifying the fluid mineral lease prioritization policy; issuing or modifying policy and providing training on use of the habitat objectives tables from the 2015 GRSG Plans; identifying options for addressing hard trigger responses when applying adaptive management decisions; and researching the ability to streamline authorizations for activities with little or no impact on GRSG.
Courtesy of the Congressional Western Caucus:

The Department of Interior under the Obama Administration found in 2015 that a listing of the Sage Grouse under the Endangered Species Act (ESA) was not warranted. However, the agency unilaterally chose to implement a de facto listing through overly restrictive Resource Management Plan (RMP) Amendments and Land and Resource Management Plan (LRMP) Amendments. These RMPs and LRMPs are in many cases more restrictive than a critical habitat designation would be under an ESA listing and sought to prevent responsible mineral production, grazing and other activities across 11 Western states. Further, the Obama Administration proposed to withdraw 10 million acres of the bird's habitat from future mining activity. More than 7,000 active claims were present within the withdrawal area. This misguided action has already killed jobs and caused severe economic losses for Western states. The proposed withdrawal is an attack on American energy as less than 0.1% or 171,000 acres of actual sage grouse habitat exists in the 10 million acre withdrawal area and the bird is not threatened or endangered.

Courtesy of the National Mining Association:

A September 2015 status review conducted by the U.S. Fish and Wildlife Service (USFWS) "determined that the greater sage-grouse remains relatively abundant and well-distributed across the species' 173-million acre range and does not face the risk of extinction now or in the foreseeable future." Shortly thereafter, "the USFWS determined that protection for the greater sage-grouse under the ESA is no longer warranted and withdrew the species from the candidate species list on October 2, 2015 (80 FR 59857)." It remains undisputed that wildfire and invasive species are the primary threats to Sage-Grouse throughout its range. "Within the proposed withdrawal area, 1.55 million acres (or nearly 16%) of vegetation has burned in the last 15 years."  The 10 million acre mineral withdrawal would be the largest ever in the history of the Federal Land Policy and Management Act (FLPMA) and comes at a time when new mining operations are already either restricted or banned on more than half of all federally owned public lands. The mineral withdrawal is not necessary to conserve Sage-Grouse or their habitat. Mining is not a major threat to Sage-Grouse or their habitat.

The withdrawal of 9,949,448 acres of federal lands under the Proposed Action would reduce the estimated number of future mines to three mines in the six-state area, which represents an 88 percent reduction from the 26 mines estimated under the No Action Alternative. "Projected total annual economic output from potential mines in the socioeconomic analysis area ranges from nearly $845 million under the No Action Alternative to approximately $151 million under the Proposed Action. Projected total employment ranges from approximately 2,031 jobs under the No Action Alternative to about 326 jobs under the Proposed Action. Projected annual labor earnings range from approximately $141 million under the No Action Alternative to about $24 million under the Proposed Action. Projected tax revenues range from about $27 million per year under the No Action Alternative to less than $5 million per year under the Proposed Action.

Courtesy of the Western Governors Association:

Western Governors from affected states have submitted Consistency Reviews to the Bureau of Land Management (BLM) and U.S. Forest Service on the federal agencies' Greater Sage-Grouse proposed management plans. In their comments, the governors identify inconsistencies between federal plans and state and local government plans, policies or programs. They also recommend solutions for resolving those inconsistencies. Topics that the governors frequently commented on in their reviews included no-surface-occupancy requirements, sagebrush focal areas, lek buffers and disturbance, livestock grazing, mineral withdrawals and mitigation. A recent report shows that greater sage-grouse population in the West has grown by nearly two-thirds since 2013. Read the report by Phil Taylor of E&E News. The Western Governors have engaged their states in extensive greater sage-grouse conservation efforts. Learn more about the recent conservation policy actions from the governors here. The Western Governors released the 2014 Sage-Grouse Inventory, highlighting the effective conservation work undertaken by public, private and non-governmental groups during the past year across the 11-state range of the Greater Sage-Grouse. Find the report here.
 
###