Western Caucus Members Celebrate Gorsuch Confirmation to the Bench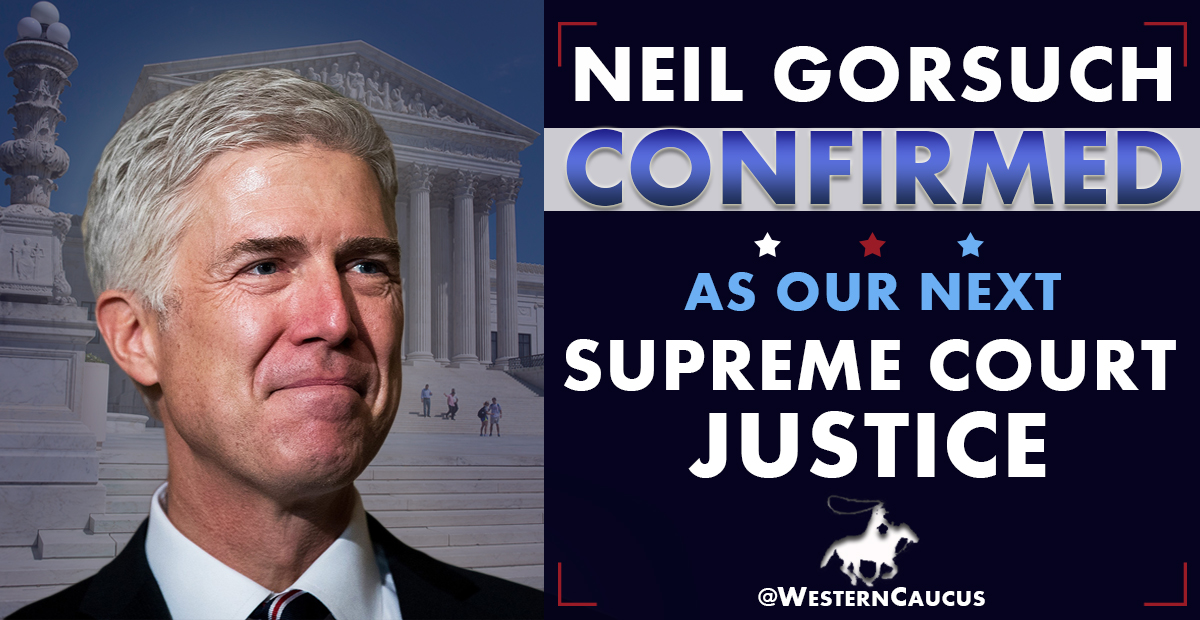 WASHINGTON, D.C. – Today, Congressional Western Caucus Chairman Paul A. Gosar D.D.S. (AZ-04), Executive Vice Chairman Rep. Scott Tipton (CO-03), Chief Forestry Officer Rep. Bruce Westerman (AR-04), and Western Caucus members Rep. Kevin McCarthy (CA-23), Rep. Raúl Labrador (ID-01), Rep. Kevin Cramer (ND-AT Large), Rep. Doug Lamborn (CO-05), Rep. Ralph Abraham (LA-05), Rep. Andy Biggs (AZ-05), Rep. Bill Flores (TX-17), Rep. Jason Smith (MO-08), Rep. Brian Babin (TX-36), and Rep. Jim Bridenstine (OK-01) issued the following statements in reaction to the confirmation of Judge Neil Gorsuch to the U.S. Supreme Court by the U.S. Senate by a bipartisan vote of 54-45:
"As a fellow Westerner, I am elated to see Judge Gorsuch confirmed by the Senate to the Supreme Court. His fervent respect for the Constitution and the role of the Court, and unwavering dedication to interpreting the law as written, will ensure our nation is well served for years to come," said Chairman Gosar. "Furthermore, as a Constitutionalist devoted to upholding the Rule of Law, Judge Gorsuch's exceptional track record makes him uniquely qualified to fill the massive void left by the great late Justice Antonin Scalia. I look forward to his opinions issued from The Highest Court in the Land."
"Judge Gorsuch is an exceptional jurist, and I am glad that the Senate has confirmed his appointment to the Supreme Court. I extend a hearty congratulations to Judge Gorsuch and his family," said Congressman Tipton.
Congressman Westerman stated, "I congratulate Judge Neil Gorsuch on his confirmation to the United States Supreme Court. I believe Judge Gorsuch to be a keen legal scholar who will interpret the Constitution strictly. There has never been a more important time for an originalist justice to be on the court as cases affecting the life of the unborn, religious liberty, and private property rights are decided."
Majority Leader McCarthy stated, "The confirmation of Justice Neil Gorsuch is nothing short of a victory for our Constitution and the rule of law. Too many public institutions have lost the faith of the American people by abusing their authority and acting outside of their constitutional limits. Justice Gorsuch will help restore trust in the Supreme Court by remaining true to its purpose—adjudicating cases according to the text of the law and the Constitution above all other considerations. Republicans, Democrats, and everybody in between should celebrate that a man of such principle and clarity has taken the seat of the late, great Justice Scalia." 
"The Senate fulfilled its constitutional responsibility today by confirming an outstanding judge to our nation's highest court. Judge Gorsuch is an experienced and well-respected jurist who understands that a judge's duty is to interpret the law, not to change the law to advance his personal agenda.  Applying the Constitution is a judge's deepest responsibility, whether the Senate Democrats who opposed Judge Gorsuch understand that or not," stated Congressman Labrador. "I want to thank President Trump for keeping his campaign promise to appoint a judge to the Supreme Court in the mold of Justice Scalia.  I am confident that Judge Gorsuch will make the people of Idaho and of this great nation proud." 
Congressman Cramer said, "Neil Gorsuch – a man devoted to the Constitution and the rule of law – has a legal background unparalleled by most, and integrity respected by all. Backed by esteemed legal scholars from all political spectrums, he is a jurist above partisan politics – and was undeserving of the political indictments made by Senate Democrats who filibustered the nomination of a Supreme Court Justice nominee for the first time in half a century. I applaud the confirmation of Justice Gorsuch and thank the Senate majority for their willingness to rise above Democrat politics in order to do what's right for the United States of America."
"I want to extend my hearty congratulations to Neil Gorsuch on his confirmation as the newest Associate Justice to the United States Supreme Court. I am confident in his credentials, his experience, and his firm commitment to the Constitution. Justice Gorsuch is an outstanding representative of the great state of Colorado, and I am convinced that he will be an exceptional servant to the American people on the bench of the Supreme Court," said Congressman Lamborn. 
"Congratulations to our newest Supreme Court Justice Neil Gorsuch, a highly-qualified individual whose credentials have been supported by legal experts across the political spectrum. He has big shoes to fill, but I'm confident he will serve our nation well," said Congressman Abraham.
"Today is a great day for America and the U.S. Constitution. Neil Gorsuch is a well-qualified judge and an exceptional fit for Justice Antonin Scalia's seat. I am confident that he will adhere to the literal text and original intent of the U.S. Constitution when issuing decisions," said Congressman Biggs. "As we fill this seat, I have reflected on the legacy, wisdom, and opinions left by Justice Scalia. He embodied the principles and values vital to keeping our country's constitutional foundation, and I hope aspiring judges look to his work for inspiration and guidance. He will be truly missed and never forgotten. I am thankful that President Trump kept his promise and nominated someone as qualified as Neil Gorsuch. I look forward to his addition to the Court."
Congressman Flores remarked, "Judge Gorsuch is going to make an exceptional Supreme Court Justice. His great respect for the Constitution and commitment to judicial restraint and religious liberty will make him a worthy successor to the late Justice Antonin Scalia. I am confident that Judge Gorsuch will continue to uphold the rule of law and serve our country well on the Supreme Court. I commend my Senate colleagues for their work to confirm Judge Gorsuch."
"I am happy to see Judge Neil Gorsuch confirmed to the Supreme Court of the United States," said Congressman Smith. "Judge Gorsuch is one of the most qualified nominees ever and the right choice to defend our constitution as intended by our Founding Fathers. He will defer power from the federal government to the states, has a solid track record of defending the rights of the unborn and will put individual liberties at the forefront of his rulings."
"Congratulations to Judge Gorsuch on being confirmed to the U.S. Supreme Court.  Throughout his extensive confirmation process, Judge Gorsuch has shown himself to be uniquely qualified and experienced to serve on our nation's highest court.  I commend Senate Majority Leader Mitch McConnell for standing strong and confirming Judge Gorsuch in the face of unprecedented and hypocritical obstruction by Senate Democrats," said Congressman Babin. "Judge Gorsuch's commitment to our Constitutional principles and judicial restraint is a huge win for the American people, the rule of law and the future of our Democratic Republic."
Congressman Bridenstine stated, "I congratulate the Senate and Judge Neil Gorsuch on his confirmation to serve as a justice of the U.S. Supreme Court.  He is an eminently qualified individual with impeccable credentials and a superb record of scholarly, constitutional jurisprudence.  We can expect Neil Gorsuch to uphold the constitution and apply the law equally and fairly to all citizens."
Background:
Today, the U.S. Senate confirmed Judge Neil Gorsuch as Justice of the United States Supreme Court by a bipartisan vote of 54-45. Upon his swearing in, Judge Gorsuch will be the 113th person to serve on the Supreme Court since it was established in 1789.
An archive of materials from Judge Gorsuch's nomination hearings that began on March 20, 2017 can be found HERE.
(Courtesy of the Senate Judiciary Committee)
On January 31, 2017, President Donald J. Trump announced his intention to nominate Judge Neil M. Gorsuch to be Associate Justice of the Supreme Court of the United States, filling the seat vacated following the death of Associate Justice Antonin Scalia.
Judge Gorsuch currently serves as judge on the U.S. Court of Appeals for the Tenth Circuit in Denver, Colorado. He was nominated for the judgeship in 2006 by President George W. Bush and confirmed by the Senate without recorded opposition. The Tenth Circuit has jurisdiction over Colorado, Kansas, New Mexico, Oklahoma, Utah, and Wyoming.
Born in Denver, Colorado, Judge Gorsuch received a Bachelor of Arts degree from Columbia University in 1988, a Juris Doctor degree from Harvard Law School in 1991 and a Doctor of Philosophy degree from Oxford University in 2004.
Prior to his appointment to the Tenth Circuit Court of Appeals, Judge Gorsuch served as a law clerk for Judge David B. Sentelle of the U.S. Court of Appeals for the District of Columbia, and later, for Supreme Court Associate Justices Byron R. White and Anthony M. Kennedy. He also served as principal deputy to the associate attorney general and acting associate attorney general at the Justice Department – which is the third highest position in the department. Judge Gorsuch also worked in private practice for 10 years.
A 2016 study identified Judge Gorsuch as one of the top judges whose approach to the interpretation of the law was closest to that of the late Justice Scalia. Gorsuch interprets the law and the U.S. Constitution from and originalist point of view, very much so in the vein of Justice Scalia and wrote in a 2016 opinion that the Constitution "isn't some inkblot on which litigants may project their hopes and dreams … but a carefully drafted text judges are charged with applying according to its original public meaning."