Western Caucus Members Celebrate Action Toward American Energy Independence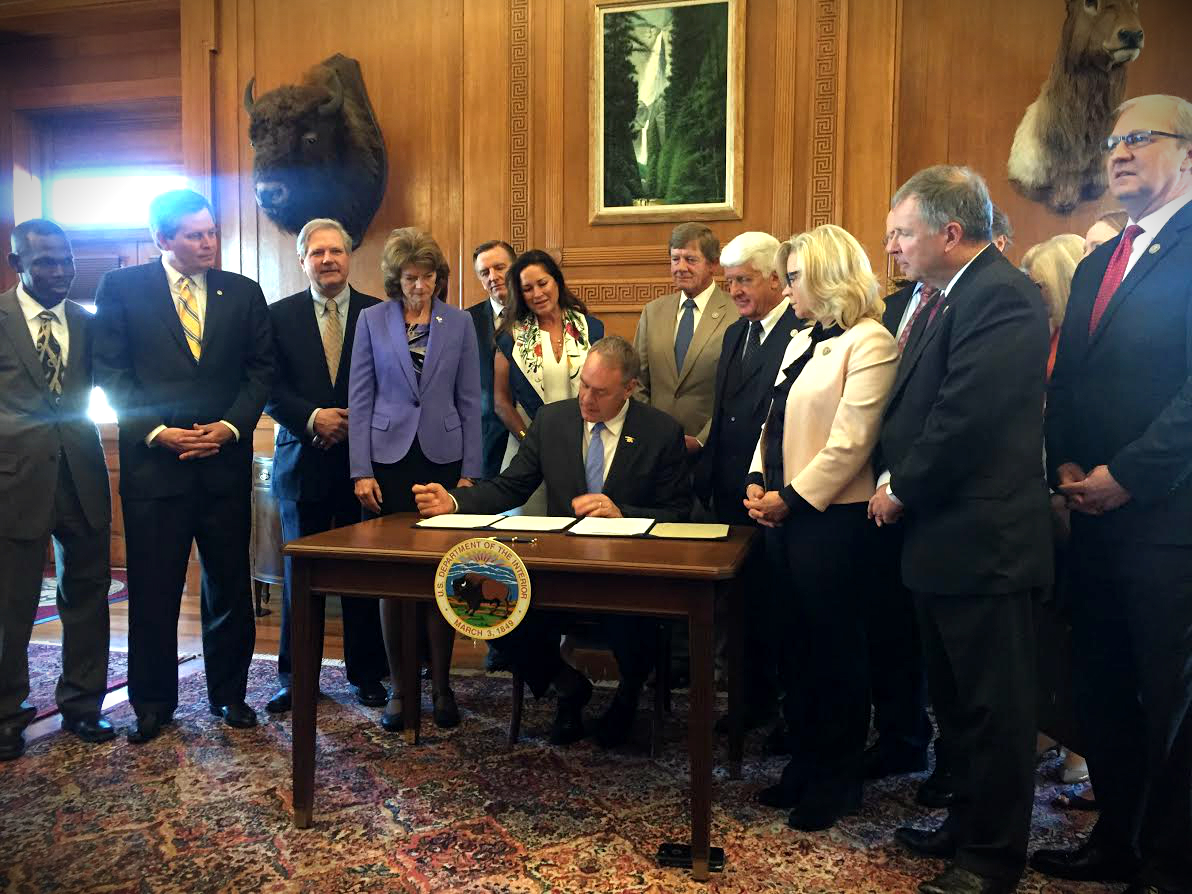 WASHINGTON, D.C. – Today, Congressional Western Caucus Chairman Paul A. Gosar D.D.S. (AZ-04), Executive Vice-Chairman Rep. Scott Tipton (CO-03), Chairman Emeritus Rep. Rob Bishop (UT-01), Chairman Emeritus Rep. Steve Pearce (NM-02) and Western Caucus members Rep. Doug Lamborn (CO-05) and Rep. Kristi Noem (SD-At Large) issued the following statements after Secretary of the Interior Ryan Zinke signed several secretarial orders in response to President Trump's American Energy Independence Executive Order:
"It is a great thing when Congress and the Administration can work together to effect meaningful change. Revoking two more job-killing policies from the Obama Administration in the form of the federal coal lease moratorium and the unlawful Compensatory Mitigation Order is common sense. Reestablishing the Royalty Policy Committee will ensure the American people have a voice on federal policies that impact their livelihoods. During his confirmation hearings, Secretary Zinke reiterated his commitment to restoring trust with local communities. With today's secretarial orders, he is doing precisely that," said Chairman Gosar. "I was honored to stand alongside friends, fellow Westerners and Secretary Zinke as the Secretary acted quickly on several  directives laid out in President Trump's American Energy Independence Executive Order."
"It was an honor to stand alongside several of my Congressional colleagues from western states to witness Secretary Zinke sign orders that will repeal the Obama Administration's 2016 Coal Moratorium, support U.S. energy independence, and establish an energy royalty policy committee that ensures state, local, and tribal governments have a seat at the table when it comes to setting royalties for energy development within their borders. This is the type of support the West needs from Washington," said Congressman Tipton.
Congressman Bishop remarked, "This moratorium was a hallmark policy of the prior administration to stomp out coal with absolutely no plan to replace our most abundant domestic energy source. In the House, we've worked hard to empower states and tribes and promote a diverse energy portfolio. It's reassuring to now have partners at Interior and the White House working to advance these shared goals."
"I was happy to join some of my colleagues in the Congressional Western Caucus at today's signing ceremony with Secretary Zinke, confirming a joint effort as we pave the way forward in responsible energy policy. Revenues from energy production contribute greatly to our local economies in New Mexico," stated Congressman Pearce. "The orders signed today will allow for the responsible development of these resources on federal lands. We can start focusing on expanding an 'all of the above' energy strategy in New Mexico without choking and duplicative regulations, creating greater opportunities and putting people back to work."
"Just yesterday, the President signed an Executive Order that helps create American jobs and increase energy production. Today, the Department of the Interior took this Executive Order one step further by reviewing Obama-era environmental policies and lifting the Federal Coal Moratorium on our public lands," said Congressman Lamborn. "Around 40% of coal production occurs on public lands. We don't need stifling restrictions—we need more responsible and efficient coal production to help get people back to work and our economy back on track. I was pleased to join Secretary Zinke on this historic occasion, and I look forward to working with the Department of the Interior in the future."
"Many South Dakotans spend nearly twice the national average on energy every year. Rather than driving those costs down, the Obama administration's plan promised to increase the bill by 30 percent," said Congresswoman Noem. "Our energy challenges can be solved, but the answer is innovation, not regulation.  The actions of President Trump and Secretary Zinke clear a path for market-driven ideas to lead the way.  As a result, I'm optimistic we'll see lower costs, a revved up economy that supports good jobs and higher wages, and a decrease in our reliance on foreign energy from volatile regions of the globe. This is what a pro-growth, all-of-the-above energy approach looks like."
Background:
Secretarial Order 3348: Repealing the 2016 Coal Moratorium and Ending the PEIS
On March 28, 2017, President Donald Trump signed the American Energy Independence Executive Order, which directed Secretary of the Interior Ryan Zinke to lift the federal coal lease moratorium issued by former Obama Administration Secretary of the Interior Sally Jewell. Federal coal leasing is important to the U.S. economy and roughly 40% of U.S. coal is produced on federal lands. By their own admission, Obama's Bureau of Land Management (BLM) estimated that nearly 1.9 billion tons of coal reserves were placed off limits in nine states as a result of the Secretarial Order.
On January 15, 2016, Interior Secretary Sally Jewell issued this Secretarial Order, imposing an unprecedented moratorium on further coal lease sales pending the completion of a Programmatic Environmental Impact Statement (PEIS) and review of the Federal Coal Leasing Program. The coal industry was already facing an onslaught of destructive government regulations from the Obama Administration, but the moratorium was yet another crushing blow to producers across the South and West.
The moratorium not only undermined the integrity of present production potential, but more importantly threatened the very future of coal development on federal lands by signaling to investors that resources will be kept "in the ground" at whatever cost. Most troubling is the impact this decision had on families that rely on jobs tied to the industry. The moratorium and PEIS put nearly 65,000 direct and in-direct mining jobs at risk as well as negatively impacted billions of dollars in revenues to states used to pay for schools, reclamation, construction, and other critical infrastructure projects.
Text of Secretarial Order 3348, Concerning the Federal Coal Moratorium can be found HERE.
Charter Signed to Establish the Royalty Policy Committee
Secretary Zinke is committed to ensuring state, local and tribal governments have a say in energy development within their borders and that taxpayers are getting a fair return on investment. To that end, this charter establishes a new Royalty Policy Committee to include renewable energy in addition to mineral resources.
On April 2, 2014, Secretary Jewell terminated the charter of the Royalty Policy Committee, effectively stripping state, local and tribal governments of their say and input regarding energy development within their respective jurisdictions.                                                             
The primary goal of this committee is to ensure the public continues to receive the full value of all energy produced on federal lands.
The composition of the charter is further detailed as follows:
The charter establishes a 28 member committee to provide the Secretary with advice
No member may have financial interest/business with the Department of the Interior.
Members will be both federal and non-federal partners. They will hail from energy producing states, tribes, the energy industry, academia/interest groups
Each member will serve a two year term
Text of the Royalty Policy Committee Charter can be found HERE.
Secretarial Order 3349: Regarding American Energy Independence
Following the bold executive order signed by President Trump on March 28, 2017, Secretarial Order 3349, "American Energy Independence," takes numerous steps to unleash the power of American energy on public lands including the following items:
Revokes Secretarial Order 3330 regarding Compensatory Mitigation and launches a review of the program
Launches a review of all climate change policies within the department
Launches a review of the National Park Service and Fish and Wildlife Service oil and gas regulations 
Launches a review of Bureau of Land Management's venting & flaring (methane) rule
Confirms that Bureau of Land Management is withdrawing the hydraulic fracking rule
Text of the Secretarial Order 3349, American Energy Independence can be found HERE.
                                                                                                                      ###