Western Caucus Praises President Trump's Executive Order on WOTUS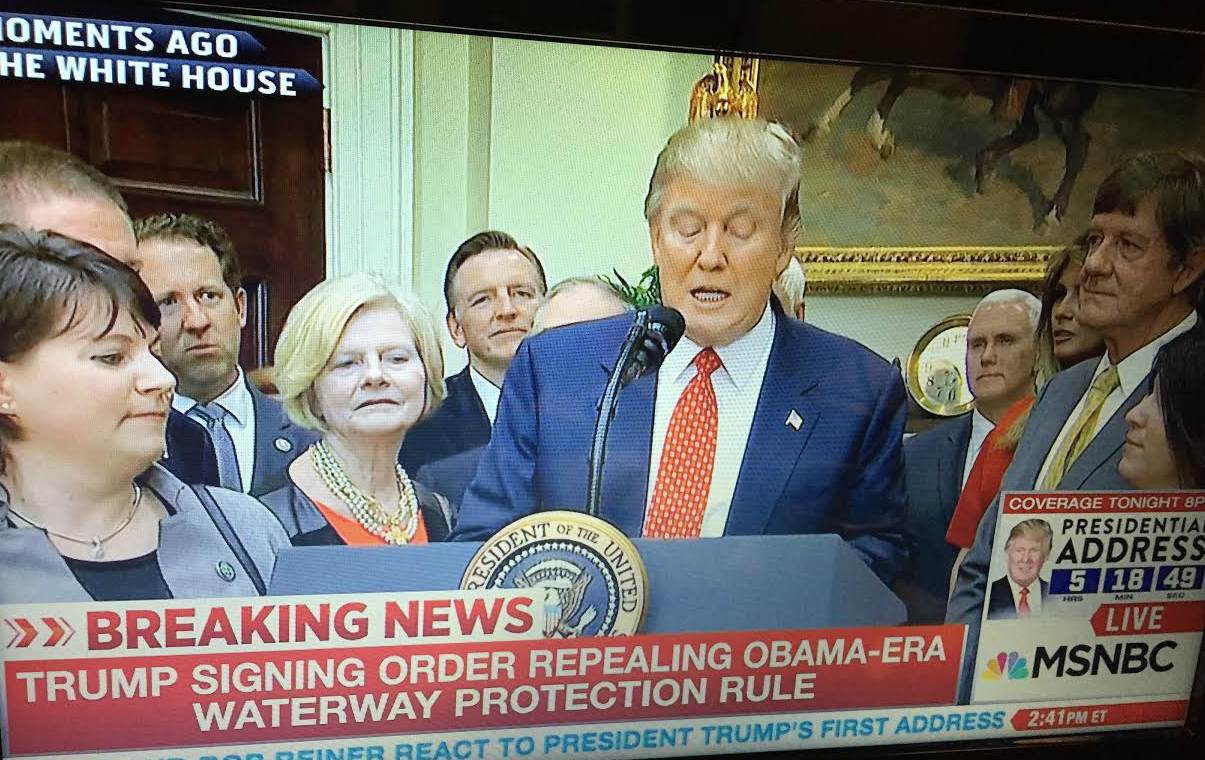 WASHINGTON, D.C. – Today, Congressional Western Caucus Chairman Paul A. Gosar D.D.S. (AZ-04), Executive Vice-Chairman Rep. Scott Tipton (CO-03), and Western Caucus members Rep. Doug Lamborn (CO-05), Rep. Doug Collins (GA-09), and Rep. Rick Crawford (AR-01) and released the following statements after President Trump signed an Executive Order requiring the Administrator of the Environmental Protection Agency (EPA) and  the Assistant Secretary of the Army for Civil Works to review the Obama Administration's Waters of the United States (WOTUS) Rule and rescind any aspect of WOTUS inconsistent with federal law in order to ensure economic growth, restore the Rule of Law and minimize regulatory uncertainty:
"Today's Executive Order issued by President Trump will wash away one of the most unconstitutional regulations unilaterally implemented by the Obama Administration. Dismantling WOTUS sends a clear signal to the entire country that no one, not the President or any federal bureaucrat, looking at you Gina McCarthy, can disregard the Rule of Law and our Constitution," said Chairman Gosar. "Countless farmers, ranchers, small businesses and water users throughout the country can rest easy knowing that this job-killing, federal water grab is sunk. I am extremely proud to have led the fight over the past three years to protect the water rights of hard-working Americans.  It is an honor to have joined President Trump and Executive Vice-Chairman Tipton in the Oval Office for this historic occasion."
Vice-Chairman Tipton said, "The Obama Administration's WOTUS Rule was one of the most onerous federal water and land grabs in history – it undermined state water law and priority-based systems, inserted federal control over western water rights, and put decisions about our water in the hands of Washington bureaucrats. The courts have already issued a stay of the rule while its legality is under review, and I am glad that the Administration has now formally requested that the EPA review and reconsider WOTUS."
Congressman Lamborn said, "The WOTUS Rule is nothing more than a federal power grab by the EPA and Army Corps. It runs contrary to Supreme Court decisions as well as established state and tribal water laws. The rule subjects an almost limitless number of new areas to uncertainty that harms local communities, slows down the economy, and tramples on the states' ability to regulate their own waters. I know that I speak for many farmers, ranchers, small businesses, and communities throughout the country when I thank President Trump for stepping in to review this misguided regulation."
Congressman Collins remarked, "President Trump's executive order illustrates his commitment to correcting the overreach of the previous administration. The Obama Administration's WOTUS Rule would have a devastating effect on farmers, ranchers, and small businesses in northeast Georgia and across the country at no clear benefit to the environment. Today's action by President Trump is a critical step towards reining in overregulation and restoring certainty for hardworking Americans. I hope this order will be a catalyst for further environmental regulatory reform."
"Despite enormous pushback from farmers and ranchers, the former administration finalized WOTUS, and they did so in part through an illegal lobbying effort that manufactured fraudulent support. WOTUS would have subjected producers and landowners to jurisdictional challenges and unprecedented levels of compliance costs. It's a relief to all of us that the new administration is actually listening to affected stakeholders and will be scrapping the rule," said Congressman Crawford.
Background:

The draft text of the Executive Order can be found HERE.
Chairman Gosar has been fighting this overreach since its inception. In May 2014, he and 230 of his colleagues, including many members of the Western Caucus, sent a letter to Gina McCarthy, Administrator of the EPA, and John M. McHugh, Secretary of the Army, calling for WOTUS to be withdrawn. The Chairman held a hearing in Phoenix in June 2014 where he heard testimony from 9 Arizona witnesses. Chairman Gosar has introduced legislation, inserted funding riders into appropriations bills, blocked a democrat amendment that tried to strip one of his WOTUS riders and voted at least five different times for legislation that has passed the House to block WOTUS. 
WOTUS was slated to go into effect August 28, 2015. Fortunately, the Sixth Circuit issued a nationwide stay and temporarily blocked implementation of this rule.
On March 25, 2014, the EPA and the Corps released a proposed rule that would assert Clean Water Act jurisdiction over nearly all areas with even the slightest of connections to water resources, including man-made conveyances.
WOTUS directly contradicts two Supreme Court decisions. The Heartland Institute has stated, "In reality, the language of the EPA rule is so vague this 'clarification' could grant Washington, D.C. jurisdiction over any body of water anywhere. It was to apply to any water or wetland deemed to have a 'significant nexus' to any navigable waterway, with the significant nexus, as described by a Wall Street Journal editorial, so widely interpreted as to include 'any creek, pond or prairie pothole' and 'any land within a 100-year floodplain and 1,500 feet of the high water mark or, alternatively, within the 100-year floodplain and 4,000 feet of waters within their claimed jurisdiction.' Essentially, the WOTUS rule would put EPA in charge of every piece of land occasionally containing any amount of concentrated water, practically down to the puddle level.'"
On January 28, 2015, Chairman Gosar introduced H.R. 594, the Waters of the United States Regulatory Overreach Protection Act. This legislation had the support of 185 bipartisan cosponsors and Western Caucus members at large. Click HERE to read more about the Waters of the United States Regulatory Overreach Protection Act. 
On May 12, 2015, the House passed H.R. 1732, the Regulatory Integrity Protection Act, by a vote of 261-155. This critical legislation required the EPA and Corps of Engineers to formally withdraw the agencies' proposed rule that would redefine WOTUS and any subsequent final rule. Chairman Gosar and members of the Western Caucus joined the Chairman of the House Transportation and Infrastructure Committee Bill Shuster in introducing this bill. Click HERE to read more. 
In July 2015, Chairman Gosar berated EPA Administrator Gina McCarthy and submitted revelatory evidence into the Congressional Record from senior Army Corps of Engineer employees that expressed serious legal and scientific deficiencies with the final draft of the WOTUS rule.
More than 200 organizations and local municipalities have publicly declared their opposition to the proposed WOTUS rule.
                                                                      ###