"The original intent of the Antiquities Act was to set aside the smallest area of land possible in order to protect sites of historical or other significance, however, those parameters have been largely ignored in recent years. Under previous Presidents, most notably the Obama Administration, this abuse of Executive power has truly gotten out of hand. In the case of the Cascade-Siskiyou monument that now bleeds into California's 1st district, unaccountable expansion now limits the public's access to the land and limits the federal government's ability to properly manage it," said Congressman Doug LaMalfa.

Congress, by virtue of its power granted in the property clause in the U.S. Constitution, makes the bulk of public land designations by statute. In recent years, a disturbing trend has emerged in land designations the usual route through Congress has been circumvented and the President has been allowed to designate massive national monuments without the consent of elected legislators or consultation with state and local governments.

As a result of the abuse of previous presidents, President Trump issued Executive Order 13792 and required a substantive review of national monuments unilaterally designated by presidents in the last 20 years that are larger than 100,000 acres and/or that lacked public outreach and coordination with relevant stakeholders.

In December of 2017, President Trump announced he was shrinking the national monument footprint in Utah by more than two million acres in order to "end past overreach and abuse of the monument review process under the Antiquities Act that has closed off land to the public." To read more click HERE.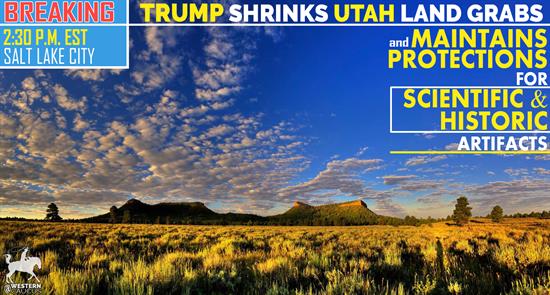 The president's authority to set aside land for monuments and national parks is derived from the outdated Antiquities Act of 1906, which was intended by Congress to be used to protect prehistoric Indian ruins and artifacts on federal lands in the West. More than one hundred years later, the original intent of this law, which included language to limit these designations to "the smallest area compatible with proper care and management of the objects," has been misused to the point of abuse. Compared to early application of the Antiquities Act, where the average size of a national monument was merely 422 acres, in recent years it became commonplace for a monument to exceed a million acres in size.
President Clinton took the Antiquities Act to new heights with the designation and expansion of more than 20 national monuments, many of which were opposed by local residents and landowners. President Obama abused the Antiquities Act more than any other president in history, designating or expanding 34 national monuments and locking-up 553.6 million acres of total land and water with the stroke of his pen. The House Resources Committee reports that previous presidents have used their authority under the Antiquities act 233 times to lock-up 840.4 million acres. No one person should be able to have that much power as these declarations are killing the West. National monument designations under the Antiquities Act typically have significant consequences that negatively affect grazing rights, water rights, wildfire prevention and other land management activities. These declarations also result in some of the most restrictive land-use regulations possible and also greatly impact hunting, fishing, OHV and other recreational activities.
Based on the parameters of President Trump's April 2017 Executive Order, Secretary of the Interior Ryan Zinke announced in the
Federal Register
an initial review of 27 different land and marine monuments designated under the Antiquities Act. Western Caucus led on this important issue and sent a detailed letter with substantive recommendations signed by 24 Members of Congress encouraging President Trump "to think big and act big league" in his monuments review. To read the full letter and recommendations click
HERE
.

H.R. 3990, the National Monument Creation and Protection Act
For years, members of the Western Caucus have been leading the effort to reform this broken law. H.R. 3990, introduced by House Committee on Natural Resources Chairman Rob Bishop strikes a good balance, restoring the original intent of the 1906 Antiquities Act while also updating the law for modern times. Specifically, the bill allows for actual antiquities to be preserved, protects private property rights, prevents executive abuse and empowers local communities. Local stakeholders deserve to have a voice on public land-use decisions that impact their livelihoods. To read more click HERE.