This is a historic day for Alaskans. We have fought a long battle to open the 1002 are of ANWR and after years of hard work, our day is finally here," said Congressman Don Young.

The federal government is not the reason the United States is the world's largest economic power. Rather, the government is merely the beneficiary of our free market system. 2017 was a record year for our economy, but we still have a lot to accomplish.Congress and the Trump Administration must continue to take a hard look at our budget priorities and rein in federal overreach and wasteful spending impeding private-sector job creation.

Western Caucus hit the ground running in the 115th Congress introducing a package of 14 bills on the first day possible to overturn job-killing rules from the Obama Administration utilizing the Congressional Review Act (CRA). In total, the House passed 15 CRA bills, four of which were spearheaded by the Western Caucus. Seven other overreaching regulations targeted by the Western Caucus through legislation have subsequently been addressed by executive action.

In total, President Trump has signed 14 CRA bills into public law. The American Action Forum estimates that these bills will "save $1.1 billion annually and eliminate 4.2 million hours of paperwork." The White House estimated that 11 of the CRA bills signed into law will save our economy more than $10 billion over a 20-year period. These CRAs coupled with other Administration-wide deregulatory efforts contributed to an overall cutting of the number of pages in the Federal Register by 32 percent by the 10th month of Trump's Presidency. These regulatory efforts have had significant benefits for jobs and our economy.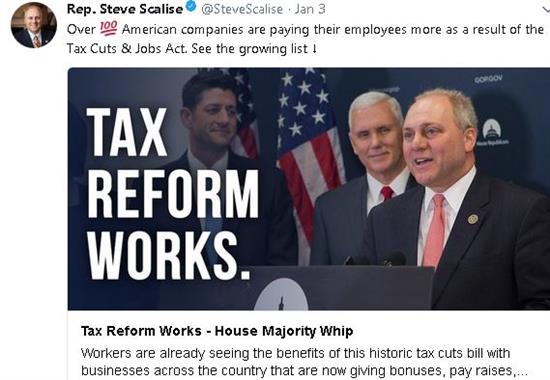 Tax Reform Works

At the end of 2017, Congress passed historic tax reform that will raise wages, bring more jobs back to America and provide a significant boost to domestic manufacturing. According to the Tax Foundation's Taxes and Growth Model, the bill would create an additional 339,000 full-time equivalent jobs, spur an additional $1 trillion in federal revenues from economic growth and increase U.S. GDP by 1.7 percent over the long term. More than 100 companies have already rewarded their employees following
enactment of the Tax Cuts and Jobs Act
. A running list can be found here
MajorityWhip.gov/taxreformworks
:
Responsible Energy Development in ANWR
Most geologists agree that the potential of recoverable oil and gas on the Coastal Plain of the Arctic National Wildlife Refuge (ANWR) may rival the initial reserves at Prudhoe Bay. In 1980, the U.S. Geological Survey estimated the Coastal Plain could contain up to 17 billion barrels of oil and 34 trillion cubic feet of natural gas. In 2017, Members of the Western Caucus traveled to Alaska to see these issues firsthand and played a critical role in authorizing two leases sales totaling 800,000 acres in Section 1002 of ANWR through legislation signed into law. Should subsequent commercial discoveries be made, it will take several years for oil and gas production in ANWR to reach the market. That production will then be urgently needed to help meet domestic demand, so taking advantage of this key resource is critical to our national energy security.
H.R. 3905, the Minnesota's Economic Rights in the Superior National Forest Act (MINER Act)
Rep. Emmer
's MINER Act rejected a last minute land grab by the Obama Administration that would harm mineral production, kill jobs and decimate education revenues. The bill protects 17,000 jobs, $3 billion for education, $1.5 billion in annual wages and $2.5 billion annually. The bill passed the House by 12 votes and Western Caucus played a key role in this victory. While it wasn't signed into law, this effort resulted in President Trump and his administration overturning this land grab. Click
HERE
to read more.
The Southeast Arizona Land Exchange and Conservation Act
There are very few types of laws Congress can pass that facilitate the creation of wealth and energy security. The Southeast Arizona Land Exchange and Conservation Act is one such initiative. After years of legislative hearings and executive branch hurdles, Western Caucus Members were finally able to get this bill over the finish line and signed into law. This bipartisan legislation facilitates a land exchange between the federal government and private industry so that it may mine copper, one of Arizona's most valuable and abundant resources. Even modest economic estimates project that the land exchange facilitated by this act will lead to 3,700 jobs and will have a total economic impact to the State of Arizona to the tune of $61.4 billion over the life of the mine. Once the operation is running, the mine will provide 25% of the United States' copper supply and will be the largest copper mine in North America.

I-11 and the Intermountain West Corridor Development Act
Western Caucus Members were instrumental in the initial authorization of the future I-11 corridor project by championing authorizing language included in MAP-21, the major transportation and infrastructure bill passed by Congress in 2012. This was the critical first step of the major economic development project that will connect Phoenix and Las Vegas, the two largest cities in the nation not linked by an interstate highway. Our members followed up on this success by introducing H.R. 1612, the Intermountain West Corridor Development Act . This legislation authorized extension of the future I-11 beyond the Phoenix – Las Vegas region to connect shipping ports in Southern Arizona through Northern Nevada to existing major interstate networks in the Northwest. I-11 and the Intermountain West Corridor will create at least 240,000 permanent jobs and generate $22 billion for our economy. The Intermountain West Corridor Development Act was signed into law.

Keystone XL
The House voted nearly a dozen times to approve the Keystone Pipeline. The State Department found back in January of 2014 for the second time that the pipeline would have NO significant impact on climate change. Conservative estimates from the State Department at that time also projected that the Keystone XL Pipeline would support more than 42,000 jobs.
National Strategic and Critical Minerals Production Act
Rep. Amodei's National Strategic and Critical Minerals Production Act will create hundreds of thousands of jobs by reducing U.S. dependence on foreign minerals from countries like China. The bill streamlines the regulatory review process and eliminates unnecessary red tape that is blocking job creation. This important legislation has passed the House multiple times.

Lowering Gasoline Prices to Fuel an America That Works Act
Western Caucus secured passage of the bipartisan Lowering Gasoline Prices to Fuel an America That Works Act. This legislation was estimated to create an estimated 1.2 million jobs, lower gas prices for hard-working American families and generate more than a billion for our economy.
The Native American Energy Act
Western Caucus spearheaded passage of the Native American Energy Act. This legislation empowered tribes to utilize energy production and streamlined many of the duplicative federal regulatory hurdles that prevent tribes or individuals from profitably developing energy resources on their land. CLICK HERE to read more.
Increasing Liquefied Natural Gas (LNG) Exports
Western Caucus led passage of the Domestic Prosperity and Global Freedom Act. This commonsense legislation, which passed the House, streamlined the permitting process and allowed our country to export more liquefied natural gas. The American Petroleum Institute estimated that by 2035 "LNG exports could contribute as much as $10 to $31 billion per state to the economies of natural gas-producing states…Natural gas-producing states could see employment gains as high as 60,000 to 155,000 jobs…Non-natural-gas-producing states will also benefit…[and] see economic gains as high as $2.6 to $5.0 billion per state. CLICK HERE to read more.
Protecting States' Rights to Promote American Energy Security Act
Western Caucus spearheaded passage of the Protecting States' Rights to Promote American Energy Security Act. This legislation protected American jobs and energy production by preventing the Obama Administration from imposing duplicative federal regulations for hydraulic fracturing. An economic analysis found that these overreaching new mandates would have cost our economy approximately $350 million annually and would jeopardize nearly 1.7 million American jobs. CLICK HERE to read more.
Lifting the Oil Export Ban
Western Caucus spearheaded repeal of the antiquated oil export ban. This outdated policy was enacted in the 1970s when oil scarcity was an issue. Repealing the oil export ban has created millions of American jobs, lowered gas prices and fostered significant economic growth for our economy.