"Under the prior Administration, mineral access on Federal land was regularly and systemically blocked, harming our nation's economic and strategic potential. Indeed, millions of acres of Federal lands were inappropriately withdrawn from mineral access due to false premises of environmental protectionism and the intentional misuse of statutory authority, " said House Committee on Natural Resources Chairman Rob Bishop.

Domestic minerals are critical to our nation's national security, economic growth and manufacturing. Almost everything we use in our everyday lives has some sort of connections to minerals. Minerals that are mined right here in the U.S. allow for the production of cell phones and other high-end electronics, solar panels, bridges and cars.

Misguided mineral withdrawals pursued to appease extremist self-interest groups should be rejected on that premise alone. However, we should be equally concerned about such actions given U.S. dependence on strategic and critical minerals from foreign countries. As this op-ed explains, "Of the 88 mineral commodities tracked by the U.S. Geological Survey, the United States is now at least 25 percent import dependent on 62 of them. Of the top 50 key minerals imported to the country, 28 come from China and 11 are from Russia." In fact, the U.S. Department of the Interior released a detailed report that found the "United States is most reliant on China for critical minerals with at least 20 critical minerals being sourced exclusively in China. Russia, South Africa, Brazil and Canada also supply many of our minerals."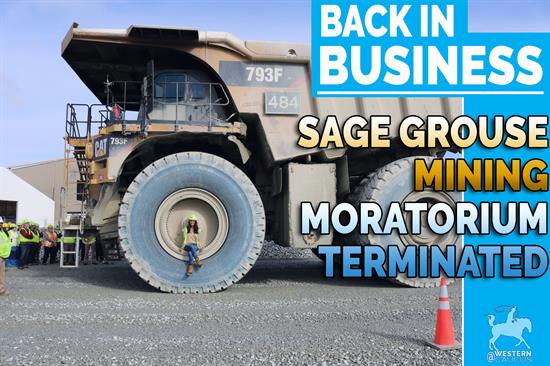 Shockingly, the Obama Administration proposed more than 30 domestic mineral withdrawals. The largest mineral withdrawal included approximately 10 million acres of Sage Grouse habitat from new mining operations in an area that contained more than 7,000 active mining claims. While this proposed mineral withdrawal was being analyzed, an immediate two-year moratorium occurred and an additional 20-year moratorium was considered. This withdrawal was shamefully political in nature, as less than 0.1% or 171,000 acres of actual Sage Grouse habitat existed in the 10 million acre withdrawal area.
On January 19th, 2017, the day before President Trump was sworn in, the previous administration published a 234,328-acre federal mineral withdrawal application in the Federal Register, to restrict for a 20-year moratorium, lands within the Superior National Forest in Northeast Minnesota. This action immediately placed this vast area off limits to future mineral leasing, exploration and potential development for two years while the 20-year withdrawal is being considered. The total withdrawal application boundary spans approximately 425,000 acres, including 95,000 acres of state school trust fund lands. The Obama Administration's Bureau of Land Management also inappropriately rejected Twin Metals Minnesota's application to renew two hardrock mineral leases in Minnesota's Superior National Forest – leases that were signed in 1966 and renewed without controversy in 1989 and 2004. To date, Twin Metals has invested upward of $400 million – a significant investment – in reliance on the two federal mineral leases that the BLM executed with the company's predecessors and renewed each time they expired.
Political mineral withdrawals not based on science should constitute a taking. Shockingly, this is not the case and mining companies still have to pay holding fees after a mineral withdrawal takes place or risk losing their claims forever. The Western Caucus is leading the charge to overturn political mineral withdrawals from the previous Administration. The House passed Rep. Emmer's H.R. 3905, the Minnesota's Economic Rights in the Superior National Forest Act" to reject Obama's Minnesota land grab and mineral withdrawal. Additionally, Western Caucus was the leading voice in Congress that pushed to scrap the 10-million-acre Sage Grouse mineral withdrawal.Click
HERE
and
HERE
to read more.