"The de facto Sage Grouse listing and 20-year mineral moratorium on 10 million acres proposed by the Obama Administration was the greatest regulatory threat to the West," said Chairman Gosar.
The U.S. Fish and Wildlife Service found in 2015 that a listing of the Sage grouse under the Endangered Species Act (ESA) was not warranted.
However, the Obama Administration implemented a de facto listing through overly restrictive Resource Management Plan (RMPs) Amendments and Land and Resource Management Plan (LRMPs) Amendments in order to limit grazing, prevent responsible energy production and discourage other activities. These new regulatory burdens imposed by the previous Administration are significant as the bird's habitat covers roughly 165 million acres in 11 Western states.

Additionally, the Obama Administration proposed to withdraw approximately 10 million acres of Sage Grouse habitat from new mining operations in an area that contained more than 7,000 active mining claims. While this proposed mineral withdrawal was being analyzed, an immediate two-year moratorium occurred and an additional 20-year moratorium was considered. This withdrawal was shamefully political in nature, as less than 0.1% or 171,000 acres of actual Sage Grouse habitat existed in the 10 million acre withdrawal area.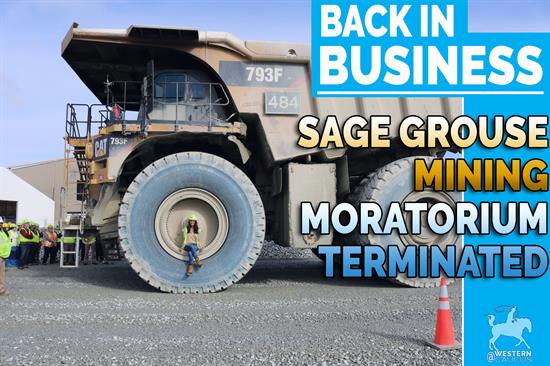 2016's Omnibus and 2017's Interior Approps bill contained language to prevent any future rules to list the Sage grouse as threatened or endangered for one year thanks to the efforts of Members of the Congressional Western Caucus.



In June 2017, Secretary Zinke announced a Secretarial Review of Sage grouse policies. More HERE.

In October 2017, Western Caucus Members applauded DOI and BLM scrapping the 10-million-acre mineral withdrawal and beginning to unwind the job-killing Sage grouse policies. More HERE.

The House Committee on Natural Resources also held a hearing discussing the ongoing success of Sage Grouse recovery efforts as well as the need for, and potential of, states and localities to boost recovery efforts with regionally-tailored plans. More HERE.


Western Caucus members are continuing to explore utilizing legislation to overturn the Obama amendments and de facto listing. This issue will continue to be a top-priority until the overreach from the previous Administration is rejected and certainty is provided for negatively impacted communities.