Western Caucus Members Support Clean Water Certainty for Future Generations
Washington, DC, June 22, 2017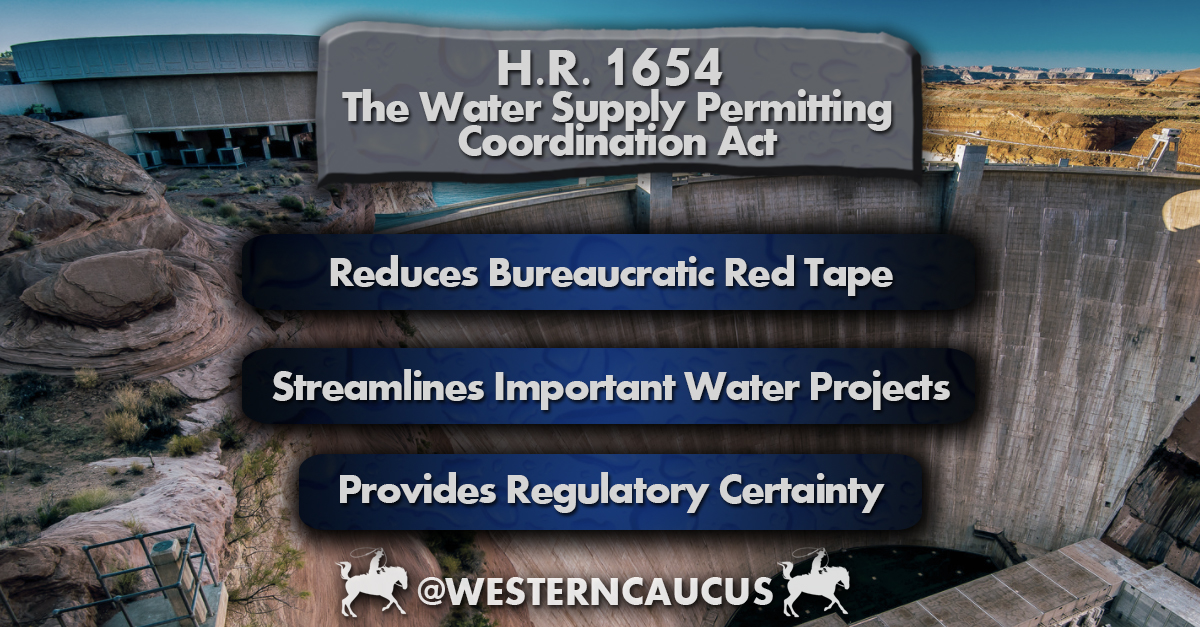 Today, Congressional Western Caucus Chairman Paul A. Gosar D.D.S. (AZ-04), Chairman Emeritus Rep. Rob Bishop (UT-01) and Western Caucus members Rep. Tom McClintock (CA-04) and Rep. Doug Lamborn (CO-05) released the following statements after the U.S. House of Representatives voted to pass H.R. 1654, the Water Supply Permitting Coordination Act, sponsored by Rep. Tom McClintock, by a bipartisan vote of 233-180:
"By creating a one-stop permitting shop with the Bureau of Reclamation at the helm, this bill will streamline the permitting process for vital water storage projects," remarked Chairman Gosar. "Ranchers, agricultural and municipal water providers and other important stakeholders in the West deserve a clear process that forgoes needless bureaucracy, and I am pleased to see the House pass this much-needed legislation."
Bill sponsor, Congressman McClintock remarked, "H.R. 1654 establishes a framework in which federal agencies with permitting responsibilities for the construction of new surface water storage projects must work together, coordinate their schedules, share data and technical materials, and make their findings publicly available. The end result would be fewer delays, more efficient use of taxpayer dollars and ultimately, more abundant water supplies."
"This bill is a win for good government. It removes layers of federal bureaucracy in order to expand much needed water infrastructure at a lower cost and without undue delay," said House Committee on Natural Resources Chairman Bishop.
Congressman Lamborn said, "This bill simplifies the permitting process for water storage in several Western states—including Colorado. By creating a 'one-stop-shop' for all permits, H.R. 1654 reduces redundant requirements and eliminate costly delays. I am pleased to support this commonsense legislation to expedite the approval process and improve our water infrastructure."
Background:
H.R. 1654 creates a one-stop permitting process for new water storage projects in 17 Western states and tasks the Bureau of Reclamation (BOR) with being the lead agency.

Specifically, this legislation tasks BOR with coordinating all reviews, analyses, opinions, statements, permits, licenses and other federal approvals required for new surface water storage projects in the following states: Arizona, California, Colorado, Idaho, Kansas, Montana, Nebraska, Nevada, New Mexico, North Dakota, Oklahoma, Oregon, South Dakota, Utah, Washington and Wyoming.

This legislation will reduce conflicting permit mandates and allow critical water infrastructure projects to move forward in a timely manner. The bill also allows nonfederal public entities to contribute funds in order to help expedite permit applications for new projects.
For centuries, Western states have fought over scarce water supplies. This scarcity led our visionary forefathers to build important federal water storage projects in order to provide water, hydropower, recreation, flood control and environmental benefits while adhering to state water rights.
These were non-partisan endeavors – as evidenced by President John F. Kennedy dedicating the San Luis Dam in California. While the Central Arizona Project came after President Kennedy, it continues to bring prosperity to Arizona's cities, tribal communities and ranches almost fifty years from its inception.
The Glen Canyon Dam and other projects affiliated with the Colorado River Storage Project provided the backbone of a regional economy that produced year-round water and emissions-free hydropower.
Lake Powell, the reservoir behind Glen Canyon allows for millions of dollars-worth of recreational boating annually and even provided the scenery for the astronaut crash landing in the 1968 science fiction classic, the Planet of the Apes.
For generations, these projects have provided benefits to a growing society, but what the federal government helped give, it has also been taking away.
The current regulatory process for constructing new surface water storage is a bureaucratic maze that requires numerous permits and approvals from a multitude of different federal, state and local agencies.
Conflicting mandates continue to cause unnecessary delays, kill jobs and result in us failing to capture precious water supplies. Ranchers, agricultural and municipal water providers, and other stakeholders in the West need a clear process without the bureaucracy.
H.R. 1654 establishes such a process by creating a "one-stop" permitting shop and requiring BOR to establish a coordinated regulatory structure for reviewing projects and permits, coordinating agency reviews and consolidating important data.
Further, this important bill builds on the good work of previous generations, gets bureaucracy out of the way, and provides a clear process for pursuing important water infrastructure projects.
###