Western Caucus Members Instrumental in Passing Bill to Reject Costly Venting and Flaring Rule
Washington, DC, February 3, 2017
WASHINGTON, D.C. – Today, Congressional Western Caucus Executive Vice-Chairman Scott Tipton (CO-03) and Caucus Members Majority Leader Kevin McCarthy (CA-23), House Committee on Agriculture Chairman Mike Conaway (TX-11) and Chairman Emeritus Steve Pearce (NM-02) released the following statements after the House successfully passed H.J. Res. 36 by a recorded vote of 221-191, legislation which seeks to block the rule submitted by the Bureau of Land Management commonly known as the Venting and Flaring Rul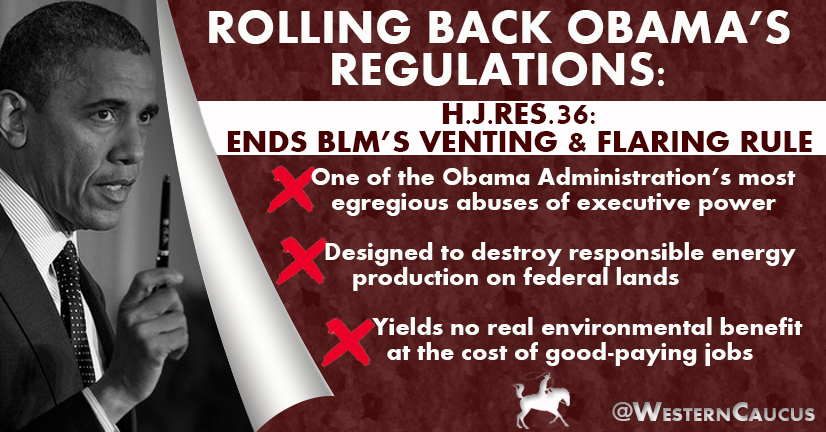 Today, Congressional Western Caucus Executive Vice-Chairman Scott Tipton (CO-03) and Caucus Members Majority Leader Kevin McCarthy (CA-23), House Committee on Agriculture Chairman Mike Conaway (TX-11) and Chairman Emeritus Steve Pearce (NM-02) released the following statements after the House successfully passed H.J. Res. 36 by a recorded vote of 221-191, legislation which seeks to block the rule submitted by the Bureau of Land Management commonly known as the Venting and Flaring Rule:
"Methane emissions are already regulated by both the EPA and, in my state, the Colorado Department of Public Health and Environment, so what we saw out of the BLM was simply redundant and unnecessary," Rep. Scott Tipton stated. "Regulations that add an additional and redundant layer of red tape on top of an already overly complex regulatory system are precisely the ones we need to prevent."
Majority Leader Kevin McCarthy remarked, "Perhaps no industry in America has been more overregulated in recent years than energy. The Venting and Flaring rule is extremely costly, threatening tens of thousands of jobs and adding hundreds of millions of dollars in costs to America's energy industry. There are less costly and more efficient ways to achieve environmental protection without devastating American jobs and energy production. Small, family-owned businesses operating marginal wells out West would suffer in particular, and many could be forced to close. Overturning this rule is yet another way Republicans are making Washington work for the people again."
"Under the Obama Administration, burdensome overregulation became the new normal," said Rep. Mike Conaway. "One of the first orders of business under President Trump is to roll back the most harmful and unconstitutional regulations, including the BLM Methane Rule. This regulation was an atrocious abuse of executive power by President Obama, with an astronomical cost of $114-279 million per year. And like many Obama Administration regulations, the BLM Methane rule was designed to drive the oil and gas industry out of business. By using the Congressional Review Act to eliminate these destructive regulations, we can ensure that the same rule cannot be issued in the future- protecting Americans from overzealous rulemaking indefinitely."
"The impacts of the BLM's Venting and Flaring Rule are devastating to the economy of New Mexico. Roughly forty percent of the state's operating funds come from the revenues of resource mineral production. This rule will result in a loss of jobs and funding for education, hospitals and law enforcement, other ssential services will be weakened, and our economy will continue to suffer. This rule solely adds bureaucratic and duplicative layers of monitoring and reporting to all of New Mexico's small and midsize oil and gas producers," said Rep. Steve Pearce.
Background:
The Bureau of Land Management's (BLM) Waste Production, Production Subject to Royalties, and Resource Conservation rule – colloquially known as the Venting and Flaring rule or the BLM Methane Rule – represents one of the Obama Administration's most egregious abuses of executive power designed to destroy responsible energy production on federal lands.
The rule prohibits venting of natural gas, except under certain specified conditions, such as in an emergency or when flaring is technically infeasible.
Methane emissions from oil and natural gas have significantly declined in recent decades without duplicative federal regulations and at a time when oil and gas production in the U.S. has surged. The rule yields very little environmental benefit and the American people would be better off if we worked to address the BLM's permitting delays.
The BLM analyzed the costs and benefits of this final rule, as did several private firms. And while the BLM estimates that this rule will pose costs ranging from $110-$279 million per year over the next 10 years with annual monetized benefits estimated to be between $209-$403 million, their estimates appear to be based on flawed assumptions. Private studies using up-to-date information contend that the regulations will only add about $4 million per year in royalties to the federal government, while the costs to industry and the economy could reach well over a $1 billion per year.
This rule was one of several midnight regulations proposed during the Obama Administration's final days. Introduced by the BLM on November 18, 2016, it went into effect on January 17th, 2017.
Background courtesy of the House Natural Resources Committee and the Republican Policy Committee.
The Congressional Western Caucus (CWC) has developed a comprehensive page where you can learn about the 10 different CWC bills that have been introduced. The page includes summaries and bill text as well as links to cosponsors and endorsements. It will be updated regularly. To learn more click HERE.