Western Caucus Members Spearhead Successful Effort to Block BLM's Power-Grabbing Planning 2.0 Rule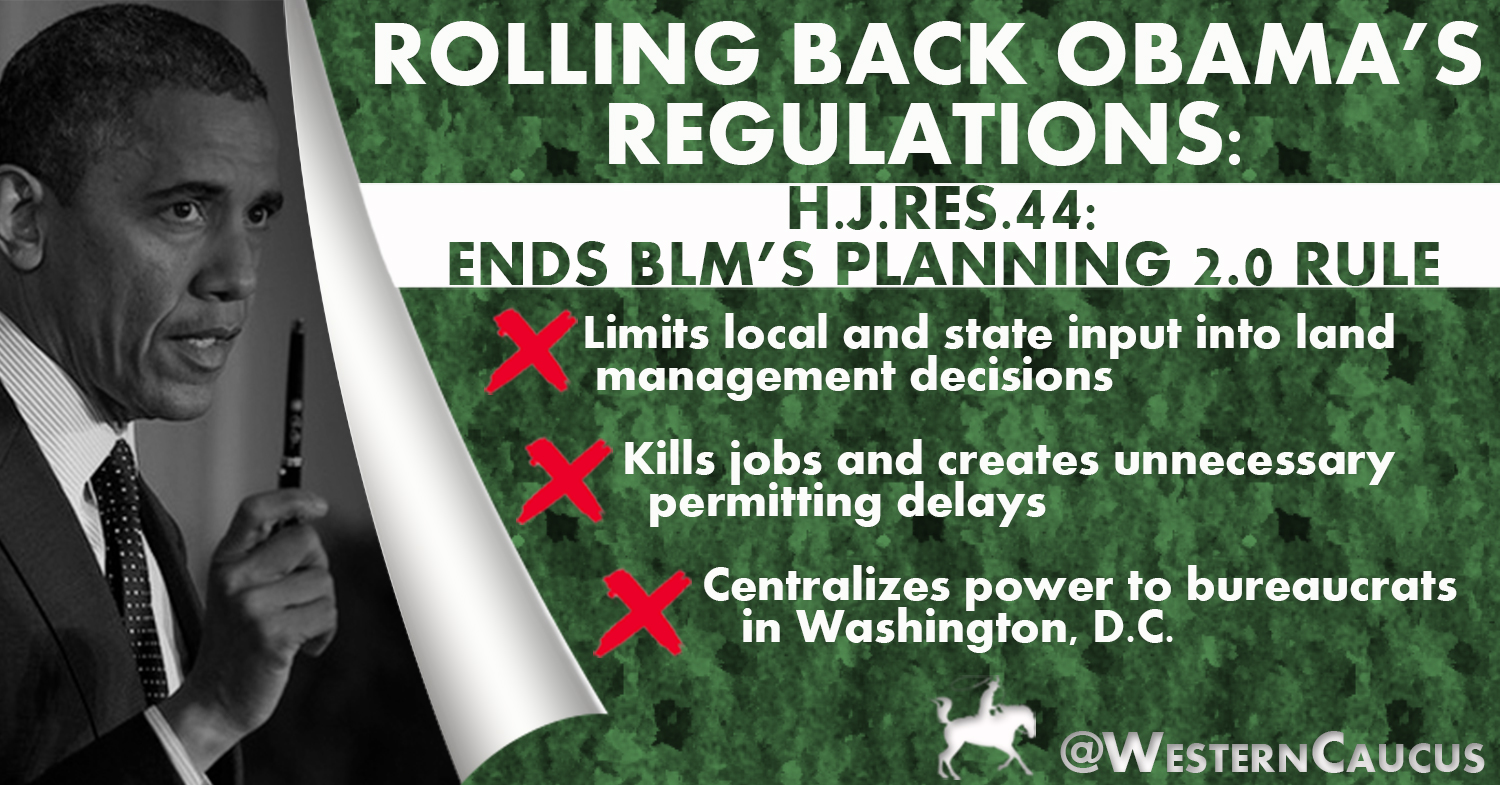 Today, Congressional Western Caucus Chairman Paul A. Gosar D.D.S. (AZ-04), Executive Vice-Chairman Scott Tipton (CO-03) and Western Caucus Members Congresswoman Liz Cheney (WY-At Large), Congresswoman Mia Love (UT-04), Congressman Raúl Labrador (ID-01) and Congressman Chris Stewart (UT-02) released the following statements after the House successfully passed H.J. Res. 44 by a recorded bipartisan vote of 234-186, legislation which seeks to block the rule submitted by the Bureau of Land Management commonly known as Planning 2.0:
"I am elated to see the passage of H.J. Res. 44, a bill that rolls back yet another costly and out-of-touch Obama Administration regulation. The Bureau of Land Management's Planning 2.0 rule takes planning decisions away from local governments and instead allows these important decisions to be made by bureaucrats in Washington who are not familiar with our land, water or communities," remarked Chairman Gosar. "This new Obama rule opens the floodgates to special-interest groups by allowing them the same amount of input as those whose daily lives are impacted most by these decisions. Planning 2.0 is a significant departure from the planning process that has existed for more than three decades and allowed significant local government involvement. With the nullification of this tone-deaf regulation, state and local governments will, once again, be empowered to best manage their public lands to ensure optimal use and good stewardship."
"Any changes to the way the BLM manages federal land would have sweeping impacts in Colorado and the West, so it was deeply troubling that the BLM disregarded calls from western counties, farm bureaus, and Congress requesting that the Bureau provide an opportunity for meaningful public involvement during the development of the BLM's Planning 2.0 rule," said Executive Vice-Chairman Tipton. "This rule would diminish the role that state and local governments, whose communities are most directly impacted, have historically played in the planning process, and would increasingly shift decision-making ability from those local communities and their local BLM officials to unelected bureaucrats in Washington. I am proud to support H.J. Res. 44, because I want to make sure important land management decisions are made by the people who know the land best."
"I was proud to work alongside my colleagues in the House and Senate to ensure the voices of countless organizations, local elected leaders and citizens from across the West were heard during this process. I look forward to continuing to work hand-in-hand with congressional leaders and the Trump Administration as we repeal regulations that stand in the way of economic growth and job creation. We know that citizens in our local communities and our elected officials are the best stewards of our land and resources. Repeal of the BLM's Planning 2.0 rule will help restore authority where it belongs - to our states and communities," said bill sponsor Congresswoman Cheney.
"Land management decisions should be made by the people and communities directly affected by those decisions. As a former mayor, I understand that the best and most efficient decisions are made at the local level. City, county and state officials are intimately familiar with the implications of resource management plans," said Congresswoman Love. "I made a promise that I would stand up for Utah. Today, I kept that promise by supporting legislation to disapprove of and nullify the BLM's 2.0 rule-to prevent shifting power from local communities to federal bureaucrats and special interests."
Congressman Labrador remarked, "The BLM's new planning rule abandons any notion that those closest to the ground should have influence in federal land management. Today the House rejected this devastating plan to limit local input and shift decision making from Idaho and other states to Washington, D.C. Consultation with those who live and work on the land makes for better long-term management that benefits both the landscape and our rural communities. We need more of it, not less."
"The BLM's final rule, known as Planning 2.0, is a snapshot of everything that was wrong with the previous administration. Unfortunately, this rule is so flawed, that a couple of administrative fixes will not right the ship. It has to be rescinded. The final rule ignored thousands of comments submitted from states and county commissioners and moved decision making out of the hands of local officials and into the hands of DC bureaucrats. These bureaucrats simply don't know the land and needs of the counties like local officials do," said Congressman Stewart.
Background:
On December 12, 2016 the Obama Administration published another overreaching "midnight regulation" in the form of the BLM's new Resource Management Rule, commonly referred to as BLM's Planning 2.0 Rule.

The same day the final rule was published, six Western states and a conservation district filed suit to block the new regulation stating that Planning 2.0 "will severely impair their ability to work with the BLM on future planning and management issues."
H.J. Res 44, a joint resolution introduced by Rep. Liz Cheney (WY-At Large), utilizes the Congressional Review Act (CRA) to disapprove and nullify BLM's Planning 2.0 Rule.
The Congressional Review Act, a law enacted in 1996, requires a simple majority in both Houses as well as a signature by the president and uses expedited procedures that allow for nullification of an entire regulation through a joint resolution that cannot be filibustered. The CRA prevents the rule from continuing in effect and also prevents a substantially similar rule from being reissued. The parliamentarian has advised that all rules submitted during the 114th Congress on or after June 13, 2016, are eligible for review under the Congressional Review Act.

The Federal Land Policy and Management Act of 1976 established a process that requires the BLM to develop RMPs in cooperation with state, local and tribal governments. RMPs are typically updated every seven years and determine what actions can take place on BLM land. According to the nonpartisan Congressional Research Service, "247.3 million acres of public land and administers about 700 million acres of federal subsurface mineral estate throughout the nation."

Planning 2.0 changes the BLM's resource management planning process, and introduces significant uncertainty by creating ambiguous standards and expanding agency discretion. This new rule will complicate effective resource planning while reducing opportunities for meaningful state and local governmental input. Planning 2.0 directs the BLM to perform large "landscape scale" planning efforts that stretch across county and state lines. This new regulation allows radical special-interest groups from other states to have the same influence as county and local officials in the planning process. Planning 2.0 takes planning decisions away from local communities and centralizes those decisions with bureaucrats in Washington D.C.

According to the American Action Forum, 4,432 new regulations have been finalized that cost a total of $1,000,000,000,000 and result in 754,208,800 hours of paperwork compliance since 2005. 120,849,512 hours of paperwork came from regulations that were finalized in 2016 alone. With regards to "midnight regulations," those issued between Election Day and Inauguration Day, a potential cost of $6,000,000,000 worth of regulations was issued by the Obama Administration on eight rules. There were several other "midnight regulations" that have yet to be analyzed and are not included in that staggering cost estimate.

###