Western Caucus Members Welcome President Trump's Order on Offshore Energy Development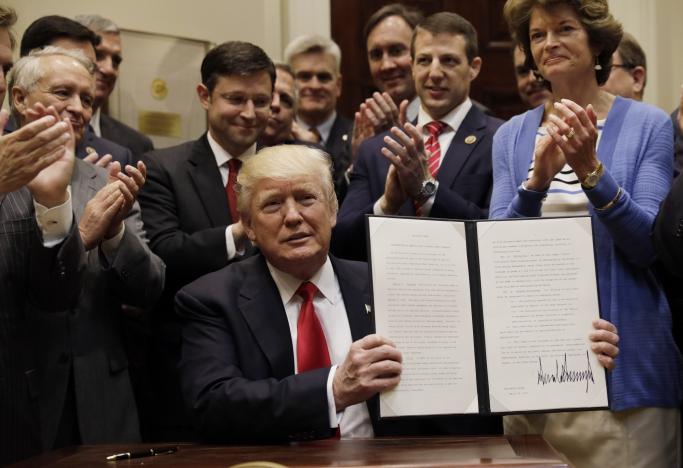 Today, Congressional Western Caucus Chairman Paul A. Gosar D.D.S. (AZ-04), Chairman Emeritus Rep. Rob Bishop (UT-01), Vice Chairman for Indian Affairs and Oceans Rep. Don Young (AK-At Large) and Western Caucus members Rep. Markwayne Mullin (OK-02), Rep. Bill Flores (TX-17) and Rep. Randy Weber (TX-14) issued the following statements after President Trump signed the America First Offshore Energy Development Executive Order:
Chairman Gosar stated, "Our nation is blessed with a wide variety of natural resources that provide reliable energy, create millions of good-paying jobs, and generate billions of dollars for our economy. Unfortunately, the Obama Administration placed a stranglehold on development of the Outer Continental Shelf, to the detriment of job creators, affordable energy, and national security. It is a breath of fresh air to see President Trump reject the Obama-era mentality that put the interests of extremist groups ahead of the well-being of hard-working Americans. and I welcome the opportunity to work with the administration on the matter."
Congressman Bishop said, "A thorough review of the morass of bad policies developed and imposed by the prior administration to crush offshore development and investment is welcomed. I look forward to working with the Trump administration on innovative solutions to make our offshore an asset to American taxpayers, working families, private sector job creators and our allies abroad."
"Today is an important moment for Alaska's future," said Congressman Young. "It represents a significant reversal of the previous administration's failed domestic energy policy; one that focused on locking away our resources, limiting new opportunities and creating insurmountable roadblocks at every turn. Along with our united congressional delegation, I've fought back to ensure Alaska's energy potential remains on the table. As a resources oriented state, this is critical. I commend President Trump for recognizing the importance of development in the Arctic OCS and look forward to building a regulatory climate that truly gives exploration a chance to succeed."
"It was an honor to attend the signing of the Offshore Energy Development Executive Order at the White House today. The United States has been graced with an abundance of natural resources, and the exploration of offshore energy resources should be encouraged to further our energy independence and security. With the development of offshore resources, our country's energy sector can continue to prosper while creating jobs here at home," remarked Congressman Mullin.
"I commend President Trump's commitment to maximizing America's enormous offshore energy potential. It is encouraging to see that the president is opening doors of opportunity that the previous administration had closed. By expanding offshore energy production in a safe and environmentally friendly manner, we can grow our economy, create jobs, lower energy prices and enhance American energy security," said Congressman Flores. "It was a pleasure to join the president at today's signing ceremony as we work to advance a 21st century energy strategy that harnesses America's abundant energy resources for the benefit of hardworking American families."
"I appreciate President Trump supporting the development of our resources. With the signing of this executive order, we have access to previously untapped oil and natural gas in the Gulf Of Mexico," Congressman Weber said. "This America First energy plan puts us back on track."
Background:
(Courtesy of the Department of the Interior)
Past administrations have been overly restrictive of offshore energy exploration and have taken off the table hundreds of millions of offshore acres for development. As a result, 94 percent of the Outer Continental Shelf is off-limits to responsible energy development. The America First Offshore Energy Executive Order directs a review of the locations available for offshore oil and gas exploration and of certain regulations governing offshore oil and gas exploration.
The text of the America-First Offshore Energy Strategy Executive Order can be found HERE.
Today's Executive Order directs the Secretary of the Interior to initiate a new 5-year plan that considers access to areas that the last administration closed down and encourages the Department of the Interior and the Department of Commerce to work together to come up with a more streamlined seismic surveying process in order to better use this science so that Americans can better understand our energy wealth. The Order also reverses President Obama's withdrawal of our Arctic OCS Planning Areas, and several other areas. Some withdrawals are left in place, including the North Aleutian Basin.
The Executive Order does not:
Interrupt lease sales that are scheduled in the current 5-year plan.
Require leasing in the Eastern Gulf of Mexico.
Increase conflicts with military uses of the OCS.
Guarantee development in any area, it simply restarts the planning process.
The Outer Continental Shelf Lands Act (OCSLA), created on August 7, 1953, defines the OCS as all submerged lands lying seaward of state coastal waters (3 miles offshore) which are under U.S. jurisdiction. Under the OCSLA, the Secretary of the Interior is responsible for the administration of mineral exploration and development of the OCS. The OCSLA empowers the Secretary to grant leases to the highest qualified responsible bidder on the basis of sealed competitive bids and to formulate regulations as necessary to carry out the provisions of the OCSLA. The OCSLA, as amended, provides guidelines for implementing an OCS oil and gas exploration and development program. The Bureau of Ocean Energy Management (BOEM) and Bureau of Safety and Environmental Enforcement (BSEE) are the agencies at the Department charged with management of our nation's 1.7 billion OCS acres.
Today 94 percent of the OCS is off limits for responsible development. As of March 1, 2017, only 16.3 million acres on the OCS (out of a total 1.7 billion acres) are under lease for oil and gas development (3,087 active leases) and 4.4 million of those acres (885 leases) are producing oil and natural gas. More than 97 percent of the leases are in the Gulf of Mexico; about 3 percent are on the OCS off California and Alaska. These 16.3 million acres account for 18 percent of domestic oil production and 4 percent of U.S. natural gas production.
In 2008, Federal leasing revenues for the OCS were nearly $18 billion dollars. By contrast, in 2016, leasing revenues were approximately $2.8 billion. That is a drop of more than $15 billion. These funds could have gone to the Treasury or toward funding important programs. For context, the current maintenance backlog for the National Park Service is nearly $12 billion.
###